ROSE GOLD IS BACK
American Express® Gold Card
Partner offer. Terms Apply.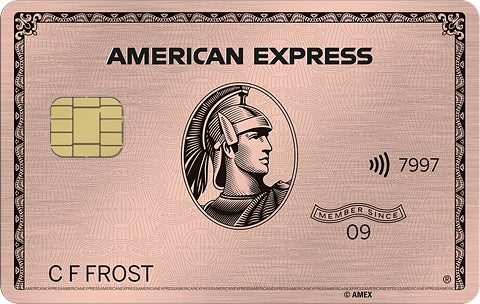 ¤ See Rates & Fees, Terms Apply
ROSE GOLD IS BACK
American Express® Gold Card
Welcome offer
Earn 60,000 Membership Rewards® Points after you spend $4,000 on eligible purchases with your new Card within the first 6 months of Card Membership.
$120 Uber Cash
Earn $10 in Uber Cash each month for U.S. Uber Eats orders or rides – up to a $120 value annually.
+
Uber Eats Pass
Get up to 12 complimentary months of Uber Eats Pass when you subscribe with your Gold Card. Enrollment required by 12/31/21. Learn more
Find a card that fits your credit score
We found and reviewed the best credit cards for every type of credit score. Check out these top offers from our partners.
Get special offers with CardMatch™
Check for pre-qualified offers and elevated bonuses without impacting your credit score.
Browse the best offers from top issuers
We partner with all major credit card issuers to make sure you see as many great offers as possible. Select one of the names below to begin your search.
Stay in-the-know
Read the latest guides and articles from our expert reporters to keep up with trends, credit card updates, and advice.
Ready to find your perfect card?
Start with the top picks from our editors.
Our experts review thousands of cards before making selections.
We update our picks regularly with the best current offers.
We find the best deals by partnering with all major card issuers.
Free, easy-to-use calculators
Wondering how long it'll take to pay off a balance? Want to see how much you can save with a balance transfer card? Find out with our calculators.
We're CreditCards.com
We've covered the ins, outs, ups, and downs of the credit card industry since 2004. If you want to improve your credit, learn to earn (and redeem) rewards, or save money, we've got you covered, too.
We offer the opportunity to apply for the right card for you whenever you're ready. When that happens, we sometimes earn a commission. This ensures that our latest tools and expert resources always remain free to use.
For us, it's about making credit cards simple and accessible for everyone.