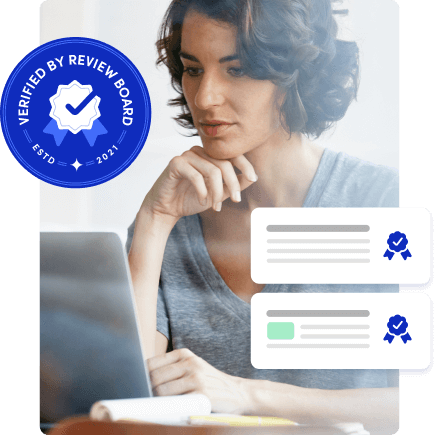 CreditCards.com Review Board
Expert advice from a team you can trust.
Our review board is a mix of internal and external financial experts with extensive experience in personal finance. This team works together to hold us accountable for publishing content that's trustworthy and make sure we're giving you honest, accurate information.

Together, this board reviews our content to ensure we're covering the information that's most impactful for you, our readers. The board's main objectives are to identify and suggest tweaks to make sure our advice is most accurate and up-to-date available, provide clarity to nuanced topics, and identify any additional context necessary to our articles and reviews to help inform our readers.

With the help of our review board, you can feel confident that everything you read on our site—and especially pieces marked with a badge—is accurate and will help you make better financial decisions.

Our review process
This is how we make sure that our content is accurate and helpful in articles that we feature on our site.
01

Article submission
Our talented credit card writers and reporters submit their work for publication and expert review.
02

Expert review
Our board of experts reviews the pieces and makes suggestions for corrections and edits within two weeks of publication.
03

Content updates
The writer and editor incorporate the expert reviewer feedback to make the pieces even better.
04

Publication
After final approval, the updated content is published with a special "Reviewed" badge, so you know you can trust the information.
Our expert network
The reviews provided by members of our outside network ensure that our information is accurate, current, and helpful to our audience. These experts bring extensive knowledge and perspective on credit cards from their years of experience within the industry.
Our review team
Our Creditcards.com editorial team has been reviewing cards and covering the industry for over 17 years. As part of our company, the review team is committed to ensuring accurate, trustworthy content.
Learn more, get help or let us know what you think!