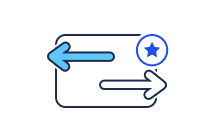 Balance Transfer Credit Cards - Reviews
A balance transfer credit card is ideal for avoiding interest while you pay down credit card debt. Many credit cards offer 0% APR balance transfers for an introductory period of time – generally 12 to 18 months – upon sign-up.
By moving a balance from a high-interest credit card to a balance transfer credit card, you can pay off debt faster and gain control of your finances. Along with this tremendous perk, many balance transfer credit cards offer added incentives like welcome offers and rewards programs. Some even include new purchases in your 0% intro APR period as well.
Our CreditCards.com experts rated the best balance transfer credit cards for 2021 based on several factors: length of the 0% intro APR period on transfers and purchases, sign-up bonuses, balance transfer and account fees, penalty APRs and rewards program benefits. In our balance transfer credit card reviews below, you can compare intro introductory APR offers, check out welcome offers, explore rewards programs and find expert insights to help you spot the best fit.