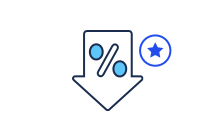 Low Interest Credit Cards - Reviews
If you are carrying a credit card balance month to month, you need to pay especially close attention to the fine print. Many cards that lure in cardholders with appealing features and rewards programs also come with hefty interest rates and fees that can quickly balloon your balance. We've reviewed and rated cards that offer the lowest costs for cardholders, with a close eye on fees, rates and penalties.
Editorial disclosure: All reviews are prepared by CreditCards.com staff. Opinions expressed therein are solely those of the reviewer and have not been reviewed or approved by any advertiser. The information, including card rates and fees, presented in the review is accurate as of the date of the review. Check the data at the top of this page and the bank's website for the most current information.