Summary
Capital One's new travel booking platform is incredibly straightforward and offers excellent price prediction and protection tools. However, it might not be the best value for every cardholder.
The content on this page is accurate as of the posting date; however, some of our partner offers may have expired. Please review our list of best credit cards, or use our CardMatch™ tool to find cards matched to your needs.
Capital One miles are known for their flexibility – as you can redeem them for just about any purchase. You can even use miles to cover the cost of travel you book on any site without sacrificing any of their value.
But Capital One Travel cardholders have another option for booking their next vacation. Capital One offers its own, freshly revamped travel portal – Capital One Travel.
Booking a trip through Capital One Travel has its pros and cons, but it can be particularly lucrative for some cardholders. For example, the Capital One Venture X Rewards Credit Card offers an up to $300 annual credit for travel you book with Capital One Travel; it also earns 10X miles on hotels and rental cars and 5X miles on flights you book through the portal. Some of the other eligible cards offer extra rewards on certain bookings through the portal, too.
Read on to learn more about why booking through Capital One Travel may or may not be the best option for you.
What is Capital One Travel?
Capital One Travel is the Capital One's travel booking site. Now powered by Hopper, it offers qualifying cardholders the opportunity to reserve flights, hotels or car rentals. You can pay for these bookings using miles, cash or a combination of the two.
You can use the Capital One Travel portal if you carry a:
These cards have also been added to access the portal:
How to book with Capital One Travel
To access the Capital One Travel portal, visit your eligible card account either online or on the mobile app and click "View Rewards." You can select "book a trip" to be redirected to the travel portal.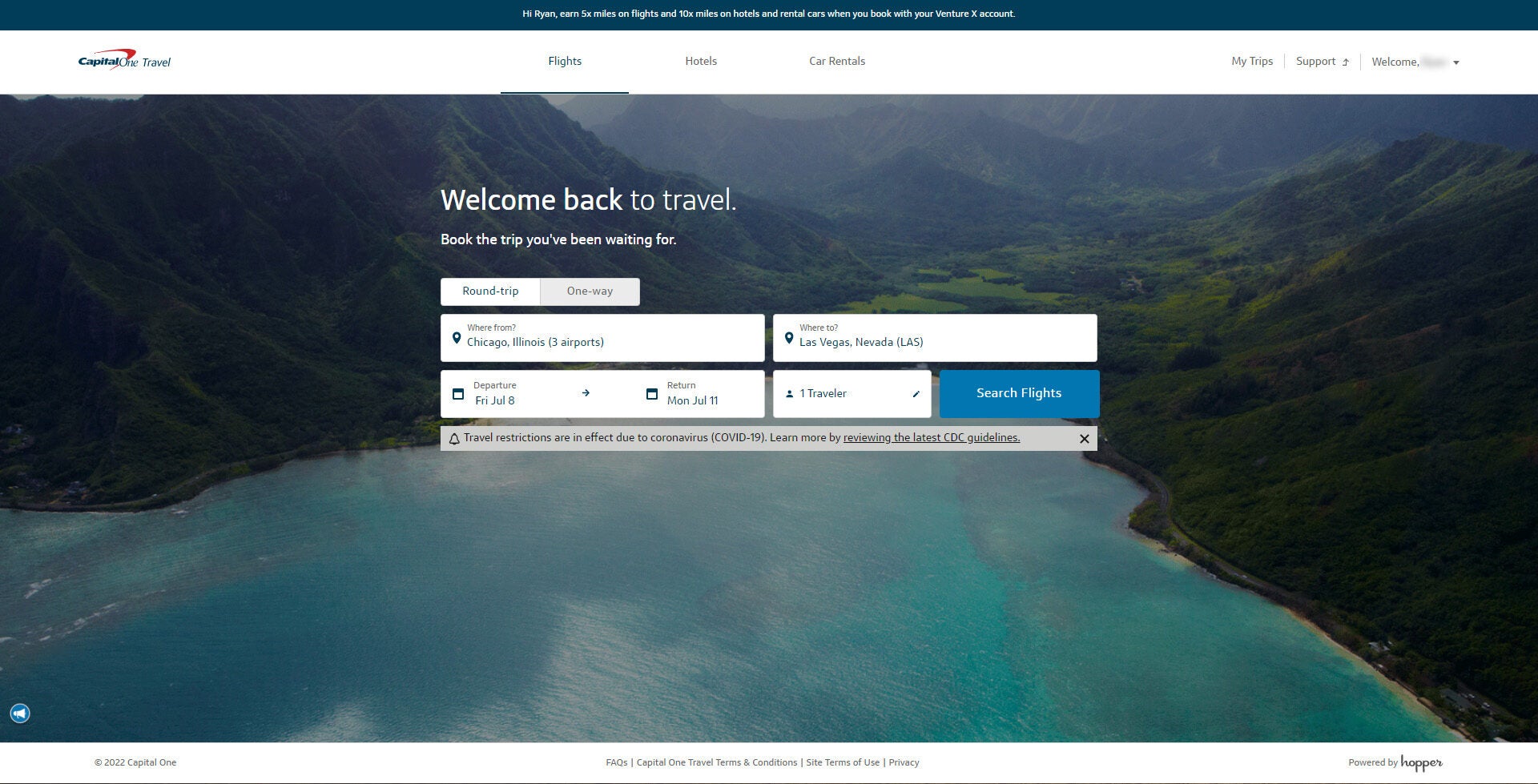 Capital One Travel looks and works much like most third-party booking sites, allowing cardholders to search for flights, hotels or car rentals. You can pay for your trip with miles, cash or a combination of the two.
Booking flights
To book a flight via the Capital One Travel portal, just enter your travel dates and departure and arrival destinations. If you have a particular airline you prefer, you can also filter the results by carrier, as well as by price, the number of stops and more.
The portal now allows you to see whether it's a good time to book or if you should wait for a better price. You can also set up a price watch to receive an alert when Capital One Travel determines it's the best time to book.
Booking hotels
You can search hotels on Capital One Travel by location and date. The search results page is a little different from flights, however, as it includes the price per night, total price for your trip and the TripAdvisor rating of that particular property.
Capital One Travel makes it easy to get a full snapshot of hotels, without having to separately search reviews of affordable options. You can also filter to properties with specific amenities, like a bar or parking.
Booking car rentals
Finally, Capital One Travel also offers a car rental booking service. After entering your pickup and drop-off information, you can review results and filter them by car rental company, price and other specifications.
Price protection and flexible cancellation
The updated Capital One Travel portal also offers valuable price protection tools, as well as options for flexible cancellation.
Price drop protection enables cardholders who purchase airfare based on Capital One's recommendation to get a refund if the price drops after booking. There's also a price match guarantee, which allows customers who find a better price for a flight, hotel or rental car on another site within 24 hours of booking to receive a refund for the difference.
Additionally, customers can "freeze the price" of a flight if they find a good deal but aren't ready to make a purchase. If the price increases after the freeze, Capital One will cover any increase, up to a refund limit. And if the price goes down, the customer will pay the lower price.
For a small, upfront fee, the portal offers the option to cancel flights for any reason up to 24 hours before the first scheduled departure and receive most of the airfare cost back.
Drawbacks of booking with Capital One Travel
Booking through Capital One Travel is simple, but there are a few drawbacks to keep in mind.
No travel packages
Many similar issuer booking platforms, like Wells Fargo Rewards, allow cardholders to book full travel packages in addition to individual flights and hotels. For some travelers, this takes the stress out of organizing several different reservations.
Capital One Travel does not have the option to book such packages. It does, however, let you group your hotel, flight and car rentals into an itinerary and pay for them together.
No hotel elite status
Capital One Travel is a third-party booking site, which means that you likely won't be able to take advantage of any hotel elite status you might carry. For the most part, hotels require you to book directly with them to unlock elite perks like free breakfast or room upgrades.
Is booking with Capital One Travel worth it?
In some cases, booking with Capital One Travel can be the easiest way to plan your next trip. Plus, all the price prediction and protection tools can help you save on airfare. However, there are a few things to consider before deciding if it is the best platform for you.
Capital One Travel rates compared to other booking sites
For the most part, Capital One Travel has competitive rates. We compared a flight from Austin, Texas, to London and found nearly identical costs on Capital One Travel and the United site.
| Capital One Travel | United |
| --- | --- |
| $736 | $737 |
However, we also found a few cases where prices varied across different booking sites – with Capital One lagging behind. As you can see below, a four-night stay at a hotel in the U.K. is showing different rates on different sites, and Capital One is not always the best price.
| | Capital One | Hotels.com | Booking.com |
| --- | --- | --- | --- |
| Holiday Inn Express | $1,198 | $1,047 | $1,047 |
| The Walford Hilton | $979 | $917 | $917 |
For this reason, we recommend that you always comparing rates across multiple sites before you book through the portal.
Spending miles
Capital One miles are incredibly flexible, and you can use them to cover the cost of travel you book on any website at the same value. That means there is no benefit to choosing one platform over the other to try to stretch your miles further.
Added rewards with Capital One credit cards
Previously, Capital One was only accessible to Venture and Spark Miles cardholders. However, now the issuer has increased availability of its travel portal to most of its cash back cards, including the Quicksilver, Savor, Spark Cash and Student cards.
To top it off, the cash back cards now earn unlimited 5% cash back on hotels and rental cars you book through Capital One Travel. The Venture and Spark Miles cards still earn bonus miles on bookings you make at the travel portal.
When shopping around different booking sites, be sure to factor in the price difference and the rewards you'd earn if you used your Capital One credit card.
Tips for maximizing Capital One Travel
Take advantage of price protection and prediction tools to make sure you get the best prices on airfare.
Pay the small cancellation fee when booking airfare. You get until 24 hours before your departure to cancel for any reason, and you may receive a refund of 70% to 90% of the ticket. Not many other booking sites offer this level of flexibility.
Compare rates on flights, hotels and car rentals with other booking sites to ensure you're getting the best deal. You can always redeem miles to cover an outside travel purchase.
Combine miles and cash if you don't have enough rewards to cover the cost of your reservation.
Bottom line
The updated Capital One Travel portal offers cardholders an easy booking and miles redemption process, as well as some incredibly useful tools for securing the best airfare prices. However, before you use it to book travel – especially at hotels – compare prices on various platforms to ensure you're getting a good deal.
*All information about the Capital One Spark Miles Select for Business and the Capital One Savor Cash Rewards Credit Card*has been collected independently by CreditCards.com and has not been reviewed by the issuer.
Editorial Disclaimer
The editorial content on this page is based solely on the objective assessment of our writers and is not driven by advertising dollars. It has not been provided or commissioned by the credit card issuers. However, we may receive compensation when you click on links to products from our partners.