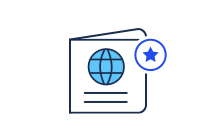 Travel Credit Cards - Reviews
We've reviewed a variety of hotel, airline and general rewards cards to determine which cards offer the most worth. Our ratings consider not only the monetary value rewards and sign-up bonuses, but also the ease of the redemption and the total value of each card's features. Our goal is to help you find a well-rounded card that offers large earnings and lets you redeem those earnings for travel rewards and perks that are truly valuable.
Editorial disclosure: All reviews are prepared by CreditCards.com staff. Opinions expressed therein are solely those of the reviewer and have not been reviewed or approved by any advertiser. The information, including card rates and fees, presented in the review is accurate as of the date of the review. Check the data at the top of this page and the bank's website for the most current information.