Ratings Policy
Rewards Rating:

3.8

/ 5
Rewards Value:
3.5
Annual Percentage Rate:
4.0
Rewards Flexibility:
4.0
Features:
3.0
Issuer Customer Experience
4.0
In a Nutshell:
The Southwest Rapid Rewards Plus card is a great card for both Southwest Airlines fanatics and the more casual rewards card user, due to its generous sign-up bonus and many options for domestic travel.
Rewards Rate

2:1 on Southwest purchases, hotel and car rental partners
1:1 general purchases

Sign-up Bonus

40,000 points after you spend $1,000 in first 3 months
Earn 3 points per dollar on dining, including takeout and eligible delivery services, for the first year

Annual Bonus
3,000 points each account anniversary


Annual Fee
$69

Average Yearly Rewards Value ($1,325 monthly spend)
$680

APR
15.99%-22.99% (variable)

Rewards Redemption
Pros

Points don't expire
No blackout dates
Unlimited rewards seats
Use miles for airfare, gift cards, merchandise, car rentals, cruises, hotel stays, access to exclusive events
No change fee
No booking fees
One-way rewards tickets permitted

Cons

No stopovers permitted on rewards tickets
Limited options for international travel
You can only book rewards flights on Southwest, since Southwest doesn't have airline partners

Chase Customer Service Ratings

J. D. Power 2020 customer satisfaction rating: 809 (30% of issuers in this category ranked higher)
24/7 customer service?: Yes
Online chat available?: No
Google Play Store mobile app rating: 4.4/5
Apple Store mobile app rating: 4.8/5
Other Notable Features: Two free checked bags for cardholder, Companion Pass® after 125,000 points allows you to choose one person to fly for just taxes and fees with you every time you purchase or redeem points for a flight, car rental insurance, baggage delay insurance, lost luggage reimbursement, roadside dispatch, travel accident insurance, travel and emergency assistance services, extended warranty protection, purchase protection
Southwest Rapid Rewards Plus Credit Card Review: More Details
At first glance, the Southwest Rapid Rewards® Plus Credit Card's $69 annual fee and meager rewards scheme doesn't really elevate this airline loyalty card above others in its crowded category. But a solid annual bonus means the card warrants a second look, especially when you consider Southwest Airlines' reputation for customer-friendly policies like no-cost rebooking, open seating and free checked baggage.
Reduced sign-up bonus
The Southwest Rapid Rewards Plus card recently updated its sign-up bonus and, unfortunately, it's a downgrade. You can currently earn 40,000 points after you spend $1,000 in your first three months. While this bonus is frequently featured on the card, it's a far cry from the card's previous offer of 65,000 points after spending $2,000 in your first three months.
Still, the current bonus should offer solid value for frequent Southwest flyers. We currently value Southwest Rapid Rewards points at around 1.6 cents apiece, so we estimate this bonus is worth around $640 in Southwest travel. If you wanted to boost your first year value, you could also take advantage of the card's new offer of 3 points per dollar on all dining purchases in your first year. While it may not add up to a ton of cash back, this feature alone could easily cover your annual fee: If you spent just $120 per month on dining out, you'd earn an extra 4,320 points worth around $69 in your first year.
Annual bonus
Southwest Plus cardholders receive 3,000 bonus points each year on their account anniversary. Valued at $48, the annual bonus doesn't quite outweigh the card's $69 annual fee, but it does come pretty close.
Earning points
The base reward rate for the Southwest Rapid Rewards Plus card is 1 point per dollar spent on general purchases. You'll also collect 2 points per dollar on Southwest flights or with the airline's hotel and car rental partners.
Eligible hotel chains include Best Western, Marriott and La Quinta Inns and Suites. Be sure to read the fine print, as you'll need to be a member of the hotel's specific rewards program and select your earning preference as Southwest Airlines Rapid Rewards. To earn points via car rentals at companies like Hertz and Avis, simply request Rapid Rewards points at the time of your reservation.
Unlike some other airline rewards cards, the Southwest Plus card doesn't award bonus points on other types of purchases, such as dining or grocery stores. This could make it hard for some cardholders to earn significant rewards when they're not traveling. 
What are Rapid Rewards points worth?
We estimate the value of Rapid Rewards points at 1.6 cents apiece, placing Southwest squarely in the middle compared to other airline rewards programs. (For example, American Airlines AAdvantage points are worth 1.9 cents each, while United MileagePlus points are valued at 1.52 cents apiece.) The number of points required for a Southwest flight varies based on the price of airfare and other factors, so Rapid Rewards points often have lower average values than points earned with loyalty programs like AAdvantage and British Airways' Executive Club, both of which use fixed charts to price award flights.
When it comes to the value of rewards earned per dollar of spending, the Southwest Plus card falls behind some alternatives from airlines with lower points values. The average face value of a TrueBlue point might be 1.53 cents, but as you'll see in the chart below, that number jumps to 2.6 cents when you factor in the JetBlue Plus card's 6:1 earnings rate on JetBlue purchases and 2:1 rate on grocery and restaurant purchases.
The Southwest Plus card does come in below many generic rewards cards that aren't tied to a particular airline, likely due to its ho-hum rewards rate on non-travel-related purchases. For example, the Chase Sapphire Reserve offers 3x points on restaurant purchases (after earning your $300 travel credit), making it easier for cardholders to rack up rewards outside of flights and hotel stays.
However, Southwest Airlines loyalists who don't want to worry about hidden fees or navigating complex redemption rules are probably better off sticking with the Southwest Plus card.
Flight network
Southwest Airlines has a smaller flight network than the likes of United Airlines or Delta, with roughly 4,000+ flights per day to 90+ destinations. United, on the other hand, operates more than 21,000 daily flights in more than 190 countries.
Despite limited options for international flights, Southwest has fewer fees and restrictions than other airlines, with no blackout dates or limits on award seats, no booking fees and fee-free ticket changes. This added flexibility is often noted as one of the airline's most attractive features.
Redeeming points
Southwest Plus cardholders have a variety of redemption options at their disposal, including airfare, gift cards, car rentals, merchandise, hotel stays and more. Like most airline rewards programs, though, the value of your Rapid Rewards points will vary based on how you redeem them.
You'll get the biggest bang for your buck by redeeming your points for airfare. Southwest offers three fare tiers: Wanna Get Away, Anytime and Business Select. Although less flexible than Anytime and Business Select fares, Wanna Get Away tickets offer the best deals for points redemption.
| | |
| --- | --- |
| Fare type | Value per point (cents) |
| Wanna Get Away | 1.6 |
| Anytime | 1.1 |
| Business Select | 0.9 |
Luckily, Southwest makes it easy to see your options when booking travel. All you have to do is input your departing airport, destination and dates to see what a flight will cost you.


Just be sure to select "points" instead of cash.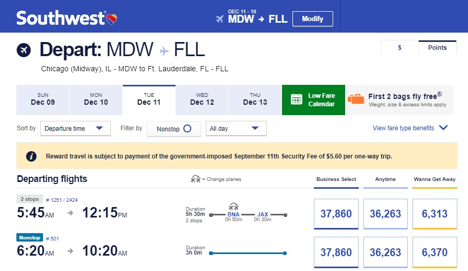 As you can see in the above image, Southwest will display the points needed for all three fare tiers, with Wanna Get Away representing the best value by far. Although flights are sold as one-way tickets, you can easily create a round-trip flight by selecting any two one-way options. Southwest also allows for open-jaw tickets, in which you fly into one airport and depart from another.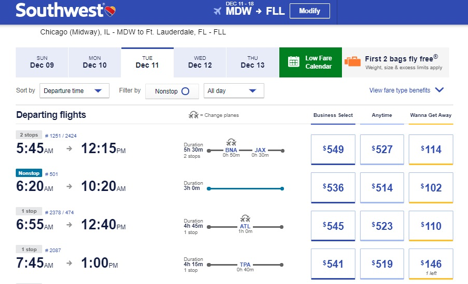 In this example, you could score a one-way flight from Chicago to Fort Lauderdale for as low as 6,313 points when you select Wanna Get Away — while an Anytime fare will cost a whopping 36,263 points.
Of course, cardholders also have the option to use rewards for something other than airfare. However, we wouldn't recommend doing so, as your points are worth much less when applied to things like merchandise, hotel stays or gift cards.
Southwest Plus redemption options

Wanna Get Away fare
1.6
Anytime fare
1.1
Business Select fare
0.9
Gift cards
0.7
Car rentals
0.7
International flights
0.8
Merchandise
0.6
Hotel
0.2
Experiences
0.8
Flights to Hawaii
Southwest began selling limited flights to Hawaii in early 2019, but fare prices so far have been pretty comparable to other airlines. Currently, Southwest offers service from Oakland and San Jose to Honolulu, Maui and Kona (the main island), in addition to inter-island flights.
Although you can definitely use Rapid Rewards points to fulfill your Hawaiian vacation dreams, there are a few things you'll want to keep in mind. First, most of the cheapest fares for Southwest's existing flight schedule are already sold out, including the more cost-effective "Wanna Get Away" fares.
In addition, you'll likely need anywhere from 30,000 to 40,000 points for a single round-trip ticket. Given the Southwest Plus card's current sign-up bonus, you could probably cover one ticket. One option you have to make up any difference is to transfer any points you might have with other qualifying loyalty programs, like Chase Ultimate Rewards or World of Hyatt.
Finally, getting to Hawaii from outside of the Bay Area means you'll probably have to book separate itineraries or build in a stopover in either Oakland or San Jose. Although chances are good that Southwest fare prices will eventually come down as its Hawaii service expands, you should consider other airlines for now and carefully evaluate your options before committing all your Rapid Rewards points.
Earning the Companion Pass®
The Southwest Companion Pass® lets you choose one friend or family member to fly with you for free (with the exception of taxes and fees) every time you purchase or redeem points for a flight. You can get the Companion Pass® as long as you're a card member by earning 125,000 points or taking 100 qualifying flights in a single year. While the current sign-up bonus won't get you there on its own, it will get you started.
Along with card spending, you can also earn Rapid Rewards points via referrals: You'll earn 10,000 points (up to 50,000 points annually) for each friend or family member who is approved for a Southwest card. All you have to do is log into your Chase account to obtain a Refer-a-Friend link. In addition, every purchase you make with the card will accelerate your points earnings, especially when you take advantage of the Southwest Rapid Rewards Dining program and Rapid Rewards shopping portal.
Other benefits
In addition to two free checked bags for every cardholder, the Southwest Plus card comes with a plethora of benefits for frequent travelers:
Car rental insurance – When you book and pay for your car rental with your Southwest Plus card, you can receive secondary coverage in the case of damage or theft (up to the actual cash value of most rental vehicles).
Baggage delay insurance – This benefit provides reimbursement for the emergency purchase of essential items when your baggage is delayed by more than six hours, up to $100 per day for a maximum of three days.
Lost luggage reimbursement – If your bag is lost or damaged, you can be covered up to $3,000 per passenger.
Roadside dispatch – If your car breaks down, you can place a service call for $59.95 that covers things like towing, tire changing, jump starting, lockout service and fuel delivery. The cost is billed directly to your Southwest card.
Travel accident insurance – This benefit provides coverage in the event you experience accidental death or dismemberment, or a combined loss of speech, sight or hearing on a covered trip.
Travel and emergency assistance services – If you have an emergency away from home, you can receive free referrals to local services (such as medical, legal or transportation assistance) by placing a call to the benefits administrator.
Extended warranty protection – Southwest Plus cardholders can extend the original manufacturer's warranty by one year on eligible purchases made with the card, up to $10,000 per claim.
Purchase protection – This benefit covers eligible items purchased with your card in the event of theft or damage.
Unfortunately, these perks are fairly run-of-the-mill compared to other airline credit cards. For example, the United Explorer Card provides up to a $100 credit every four years to help cover the costs of Global Entry or TSA PreCheck status, as well as discounts on in-flight purchases such as drinks and Wi-Fi access. 
Plus vs. Premier card
In exchange for a higher annual fee – the Southwest Rapid Rewards® Premier Credit Card charges $99 per year, versus $69 for the Plus. The Premier card offers the same sign-up bonus as the Plus card, and 6,000 points on your account anniversary instead of 3,000. Based on our calculations, the Premier's anniversary bonus is worth an additional $48, which more than covers the $30 difference in annual fees.
Depending on how often you travel internationally, the Premier card could represent significant savings when swiping your card overseas, since it charges no foreign transaction fees. (The Plus, meanwhile, imposes a 3 percent foreign transaction fee.) Considering the airline's primarily domestic flight network, however, this may not be much of a deal-breaker.
If added perks are what you're after, you'll have to shell out $149 in annual fees for the Southwest Rapid Rewards® Priority Credit Card, which comes with an annual travel credit, four upgraded boardings per year and a 20 percent discount on in-flight drinks and Wi-Fi.
Customer service
As the issuer for the Southwest Plus card, Chase has a reputation for good customer service. For example, the bank scored 809 in J.D. Power's 2020 customer satisfaction survey, fourth out of 11 major credit card issuers.
Chase customer service is available by phone, secure email or in-person at a branch location. Unfortunately, Chase does not offer an online chat feature for quick questions. Its mobile app, however, is highly rated for both iPhone and Android.
Approval odds
Although your credit score isn't the only factor in whether you'll be approved for the Southwest Plus card, the card is generally designed for users with good or excellent credit. In other words, your score should be at least 670 (preferably above 700) for you to have the best chance of approval.
It's worth noting that Chase enforces what's called the 5/24 rule, which essentially means your application will be denied if you've already opened five or more credit card accounts in the last 24 months. This includes cards with other card issuers, not just Chase.
How does the Southwest Plus card compare to other cards?
The Southwest Plus card is a good option for frequent flyers on Southwest, but if Southwest isn't your airline of choice, or you want some more flexibility on how you redeem your points or where you fly, you should check out these other options:

Chase Sapphire Preferred® Card

United℠ Explorer Card

Delta SkyMiles® Gold American Express Card
Rewards rate

2 points per dollar on travel and restaurants
1 point per dollar on other purchases

Rewards rate

2 miles per dollar on hotels, dining and directly purchased United tickets
1 mile per dollar on other purchases

Rewards rate

2 miles per dollar on Delta purchases
2 miles per dollar at restaurants worldwide and U.S. supermarkets
1 mile per dollar on other eligible purchases

Welcome bonus

100,000 points if you spend $4,000 in the first 3 months

Welcome bonus

60,000 bonus miles after you spend $3,000 in the first 3 months
10,000 additional bonus miles after you spend $6,000 in first 6 months

Welcome bonus

Earn 40,000 bonus miles after you spend $1,000 in purchases in your first 3 months and up to $50 back in statement credits for eligible purchases at U.S. restaurants within the first 3 months of membership
Terms apply

Annual fee

$95

Annual fee

$95 (waived the first year)

Annual fee

$0 introductory annual fee for the first year, then $99

Other things to know

25% bonus on travel rewards
1:1 point transfer to frequent flier partners
Combine points from other Chase cards
Pay for travel with partial points

Other things to know

2 one-time passes each year for the United Club
Up to $100 credit every four years for Global Entry or TSA PreCheck
25% discount on in-flight purchases

Other things to know

Free first checked bag on Delta flights
Free ShopRunner membership (enrollment required)
Large, worldwide flight network
If Southwest Airlines isn't your airline of choice, the Chase Sapphire Preferred could be a rewards card worth considering. Although it charges a higher annual fee, the Sapphire Preferred offers a few benefits that might outweigh the added costs.
For example, Sapphire Preferred cardholders can score double the points on restaurant and travel purchases, whereas the Southwest Plus only offers bonus rewards for Southwest flights or purchases made with the airline's hotel and car rental partners. The Chase Sapphire Preferred also gives you the option of transferring points to several travel partners at a 1:1 ratio. Depending on the partner, the value of your points could end up exceeding the value of Rapid Rewards points earned with the Southwest Plus card.
Finally, one major advantage of the Chase Sapphire Preferred is the ability to pair it with other Ultimate Rewards cards to further boost your earnings.
The United Explorer card is another potential alternative to the Southwest Plus card. It lacks the annual cardmember bonus of the Southwest Plus, but it does come with two one-time passes to the United Club every year (valued at more than $100). This more than makes up for the 3,000 anniversary points you'd get with the Southwest Plus, which are valued at $48.
In addition, the United Explorer card offers priority boarding, a credit up to $100 every four years to cover the cost of Global Entry or TSA PreCheck status, and a 25 percent discount on in-flight purchases, all of which the Southwest Plus card lacks. Unlike Southwest, however, United Airlines has a few more restrictions when it comes to booking award travel.
Delta SkyMiles Gold American Express Card
Like the Southwest Plus, the Delta SkyMiles Gold American Express offers a generous welcome bonus. Delta SkyMiles Gold members also enjoy a free first checked bag on Delta flights, free ShopRunner membership and a larger flight network than what the Southwest Plus card provides. That said, the similar points value when redeeming rewards for flights mean the cards are pretty equally matched – which one is best for you really depends on which airline you prefer. 
Who should get the Southwest Plus card?
Frequent Southwest fliers looking to earn points faster.
Frequent travelers looking for an easy-to-navigate rewards program.
Cardholders who are loyal to one or more of Southwest's hotel and car rental partners.
Travelers who primarily fly domestically.
How to use the Southwest Plus card
Spend at least $1,000 within the first three months and to earn the sign-up bonus.
Use the card for all dining purchases for your first year to take advantage of the boosted rewards rate.
Opt for Southwest's "Wanna Get Away" fares or book travel during the airline's frequent specials to maximize your points value.
When shopping online, start with the Southwest Rapid Rewards Shopping portal to take advantage of bonus rewards and special offers.
Choose restaurants and bars included in the Rapid Rewards Dining program when dining out.
Book hotel stays through SouthwestHotels.com or Rocketmiles.com.
Share your Refer-a-Friend link to earn up to 50,000 bonus referral points every year.
Is the Southwest Plus card worth it?
If you frequently fly with Southwest Airlines, the Southwest Plus card is a great way to earn Rapids Rewards points at a faster clip. That said, you can enjoy better perks with other airline rewards cards if you're not particularly devoted to the airline. This especially rings true if you often travel internationally, given Southwest's limited choices for overseas flights.
Our reviews and best card recommendations are based on an objective rating process and are not driven by advertising dollars. However, we do receive compensation when you click on links to products from our partners. Learn more about our advertising policy
All reviews are prepared by CreditCards.com staff. Opinions expressed therein are solely those of the reviewer and have not been reviewed or approved by any advertiser. The information, including card rates and fees, presented in the review is accurate as of the date of the review. Check the data at the top of this page and the bank's website for the most current information.
Responses to comments in the discussion section below are not provided, reviewed, approved, endorsed or commissioned by our financial partners. It is not our partner's responsibility to ensure all posts or questions are answered.
Partner Offer