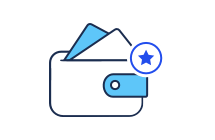 Cash Back Credit Cards - Reviews
Cash back credit cards let you pocket earnings on eligible purchases and spend your rewards anywhere you like. To earn the most cash back rewards, you need to pick the best cash back credit card for your spending habits. Some pay a 1% to 2% flat rate on all of your purchases. Others offer cash back rates as high as 5%, but only on eligible purchases like travel or dining.
Many cash back credit cards have generous welcome offers that give you a hefty rewards balance from day one. Along with cash back perks, some cash back credit cards also offer 0% introductory APR on purchases and balance transfers upon application approval, plus nifty benefits like flexible payment plans for large purchases and discounts at select stores.
Our CreditCards.com experts reviewed hundreds of cash back credit card offers based on several factors. Cash back rates, welcome offers, redemption simplicity and interest rates are the key criteria we used. In our cash back credit card reviews below, you can compare our experts' top picks from our partners for 2021 and find recommendations on the best cash back credit cards for your spending habits.