Summary
While it's tempting to transfer points to different programs without too much thought, do your research first. It's almost always best to use hotel points within their original rewards program – with a few exceptions.
The content on this page is accurate as of the posting date; however, some of our partner offers may have expired. Please review our list of best credit cards, or use our CardMatch™ tool to find cards matched to your needs.
Some hotel loyalty programs give you the option to convert their points to airline miles, but that doesn't mean it's always a good idea. The fact is, the majority of hotel points have higher value if you use them as they were originally intended — for award nights at hotels and resorts within a specific brand.
If you do take steps to turn your hotel points into airline miles, you'll typically lose some of their value in the transition, leaving you with a less valuable stash of rewards.
So, are there any situations in which this kind of transfer can make sense? And if so, when should you avoid transferring hotel points to airlines?
If you're thinking of turning your hotel loyalty points into airline miles with a frequent flyer program, read on to find out what you need to know.
Hotel programs that let you transfer points to airlines
For the most part, there are eight main hotel loyalty programs that let you transfer points to airlines. Each of these programs partners with different frequent flyer programs to facilitate these transfers, and they each come with their own transfer ratios, which can vary by program.
Best Western Rewards
Hilton Honors
IHG One Rewards
Le Club AccorHotels
Marriott Bonvoy
Radisson Rewards
World of Hyatt
Wyndham Rewards
Before you transfer hotel points to airline miles, make sure you know which airlines partner with each program, as well as the transfer ratio for the trade (how many points you'll need to exchange and how many airline miles you'll get in return). You can use this information to decide if turning your hotel points into miles is worth it, or if you should just keep them.
When does transferring hotel points to airline miles make sense?
Because of the meager transfer ratios available when you turn hotel points into airline miles, you should only transfer hotel points to airline miles if you absolutely have to. If you're a few thousand miles short on a redemption for an awesome award flight, for example, converting some hotel points you weren't planning to use might be a good idea.
It can also make sense if you're getting outsized value for an award flight. For example, Air France / Flying Blue miles are typically worth around 1.2 cents each, but that's just an average. You can frequently get more value than that out of these miles – and others – when you book award flights in a premium cabin.
In the example below, you can see that a one-way flight from Chicago, Illinois (ORG) to Budapest, Hungary (BUD) can cost as little as 62,000 Flying Blue miles plus $218.40 in airline taxes and fees for dates this summer.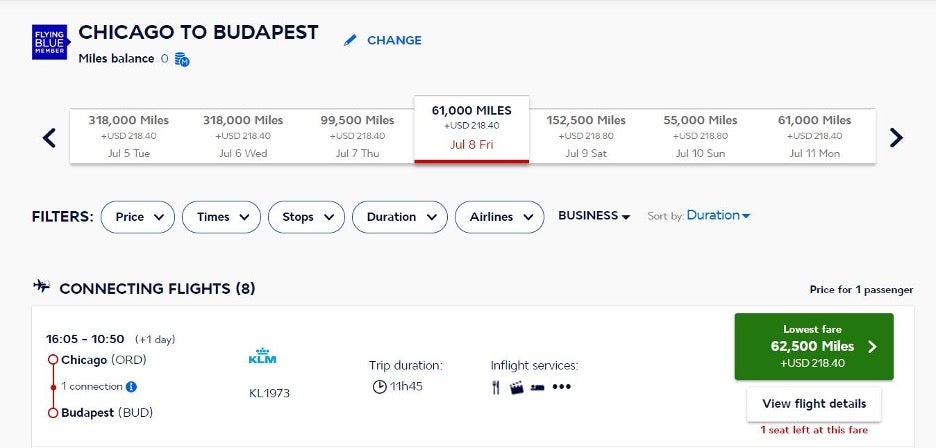 However, the same one-way flight would cost you more than $6,600 if you paid in cash. So, if you redeemed your miles, you'd get almost 10 cents each, which makes transferring points from a hotel loyalty program a considerably better deal.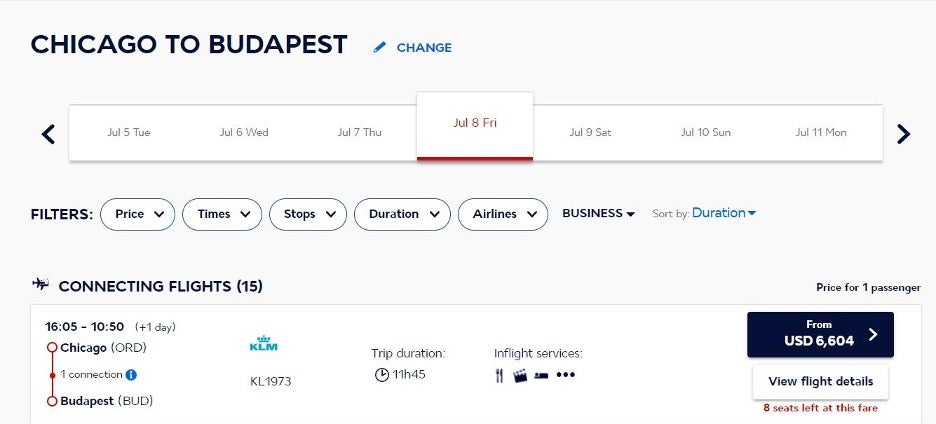 Granted, booking one-ways with this airline and most others makes each leg more expensive than if you booked a round-trip flight, but the concept is the same.
When does transferring hotel points to airline miles not make sense?
If you need a stash of airline miles for an award flight, your best bet is to earn them through flying or by spending on an airline credit card. Also note that many flexible credit cards let you transfer points to frequent flyer programs (for example, Chase Ultimate Rewards, American Express Membership Rewards and others), so you can go that route if you have some flexible points built up.
With that in mind, transferring hotel points to airlines is usually a bad deal due to the poor transfer ratios. For instance, you would get 1 airline mile for every 2.5 points you transfer out of the World of Hyatt program to most (but not all) of its airline partners, but you'd get 5,000 bonus miles for every 50,000 points you transfer.
This means that transferring 50,000 World of Hyatt points to an airline partner would give you 20,000 airline miles, but you would net 25,000 miles with the transfer bonus.
Meanwhile, according to our sister site, The Points Guy, World of Hyatt points are worth approximately 1.7 cents each, so 50,000 points are worth about $850.
Unfortunately, it would be nearly impossible to get $850 in value out of 25,000 miles with any of World of Hyatt's partners. Examples include Air France / Flying Blue, Delta SkyMiles and United MileagePlus, whose points are currently worth just 1.2 cents, 1.41 cents and 1.21 cents each, respectively.
At these rates, 50,000 World of Hyatt points would net you 25,000 Flying Blue miles worth $300, 25,000 Delta SkyMiles worth $352.50 or 25,000 United miles worth $302.
Bottom line
It's rarely ever worth it to transfer hotel points to airline miles, but there are always exceptions, and sometimes it's the easiest thing to do. If you just need a few thousand more miles for an award flight you want, for example, giving up some hotel points you don't really care about can make a lot of sense.
That said, you can always just earn the extra points and miles you need for the trip you want. Not only do the best travel credit cards let you rack up points or miles for every dollar you spend, they often offer generous welcome offers to boot.
Editorial Disclaimer
The editorial content on this page is based solely on the objective assessment of our writers and is not driven by advertising dollars. It has not been provided or commissioned by the credit card issuers. However, we may receive compensation when you click on links to products from our partners.