Summary
If you are an American Express cardholder, you can be earning points or cash back on the purchases you make every day.
The content on this page is accurate as of the posting date; however, some of our partner offers may have expired. Please review our list of best credit cards, or use our CardMatch™ tool to find cards matched to your needs.
Membership Rewards®
points on the purchases you already make every day.
What is Amex Offers?
Amex Offers is the card-linked offer program of American Express, offering cardholders special promotions from restaurants, clothing stores, travel sites and more. Users can earn cash back as a statement credit or Membership Rewards points on purchases from a wide variety of popular brands.
Rather than hunting for online promo codes or clipping coupons, Amex Offers users can see deals from merchants right in their American Express mobile app or on the online banking platform.
How does Amex Offers work?
To find Amex Offers, cardholders simply have to log in to their American Express account either online or on their phone. Alternatively, you can discover offers through the Amex bot for Facebook Messenger. Once you've linked your account, you can easily ask for the current offers through the Messenger app.
Once you've found deals that work best with your everyday spending, you'll have to add them to your eligible cards before you can redeem. Fortunately, there is no limit to how many offers you can add. Then, just use the linked card to make an eligible purchase, and your cash back or Membership Rewards will be automatically added to your account within 90 days.
When you sign in online, you'll be able to view available offers, offers you've already added to a card and total savings to date.
To view the terms and conditions for an offer, just click on the drop-down arrow.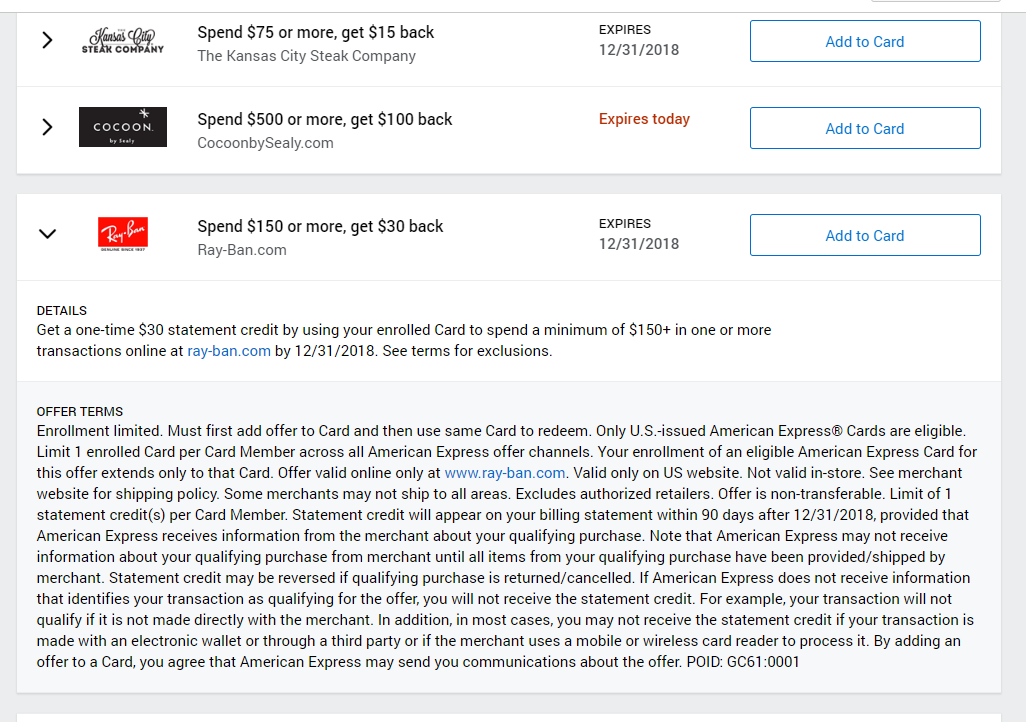 Alternatively, signing in on mobile automatically presents you with offers in your location.
Whether you are adding Amex Offers online or on your phone, it is easy to see just how much you have saved so far.
Restrictions and drawbacks with Amex Offers
While prepaid cards don't qualify for the program, most American Express credit and charge cards are eligible. However, there are a few other restrictions to consider.
You can only use an offer once
Only one eligible card can take advantage of an Amex Offer, so if you own more than one American Express card, you'll be limited on how much you can earn. Similarly, you can only add an offer to an eligible card once.
Keep close watch on the terms and conditions
Once you've chosen deals that work for you, look carefully at each offer's terms and conditions. They can vary greatly by merchant and include important information such as expiration dates, purchase requirements and even enrollment limits. You'll want to add deals to your cards regularly and keep an eye out for new additions to make sure you don't miss out on a great offer.
It can take a while for offers to post
While some other card-linked offer programs apply discounts at the register or award rebates quickly, points or cash back earned through Amex Offers can take up to 90 days after the purchase to show up on your account. This can be a big drawback for users looking to top off a points balance. While it is possible the rewards will appear sooner, there is no guarantee.
Types of deals you can find
Amex Offers includes promotions from a wide variety of brands, including deals on dining, shopping, travel and more. On the American Express mobile app, you can even filter offers to view ones nearby.
Earn more with American Express Rewards cards>
Perhaps the biggest perk of Amex Offers is the ability to earn extra Membership Rewards, rather than just cash back offers. If you have an American Express rewards card and are looking to boost your points earning, this is a great way to stack extra points on what you already earn.
When you use your American Express card on an eligible purchase, Amex Offers don't affect your current rewards earning scheme. So if your card has a bonus category that's already earning great points, you can often add an Amex Offer on top of it to earn rewards even faster. Better yet, you can earn additional rewards on purchases that don't fall under your bonus categories and increase your overall rewards rate.
Here are a few of the most popular American Express rewards cards that you can use Amex Offers with to earn even more.
Introductory offer
Rewards rate
Annual fee

60,000 Membership Rewards points if you spend $5,000 in first 3 months (terms apply)

5 points per dollar on flights booked directly with airlines or amextravel.com
5 points per dollar on prepaid hotels booked on amextravel.com
1 point per dollar on other purchases
Terms apply

$550
35,000 Membership Rewards points if you spend $4,000 in first 3 months (terms apply)

4 points per dollar at restaurants worldwide
4 points per dollar at U.S. supermarkets (on up to $25,000 in purchases per year)
3 points per dollar on flights booked directly with airlines or amextravel.com
1 point per dollar on other purchases
Terms apply

$250

None

2 points per dollar on every purchase, up to $50,000 per year (1 point per dollar thereafter) (Terms apply)

$0
35,000 Membership Rewards points if you spend $5,000 in first 3 months (terms apply)

4 points per dollar on two categories of your choice (first $150,000 in purchases yearly)
1 point per dollar on other purchases
Terms apply

$295

50,000 points if you spend $10,000 in first 3 months
25,000 additional points if you spend additional $10,000 in first 3 months
Terms apply

5 points per dollar on flights and prepaid hotels booked through amextravel.com
1.5 points per dollar on qualifying purchases of $5,000 or more (up to 1 million additional points per year)
1 point per dollar on general purchases
Terms apply

$595
Plenty of other American Express cards qualify for Amex Offers, including cash back cards like the Blue Cash Preferred® Card from American Express. No matter what rewards program is right for you, you'll be able to maximize rewards potential by taking advantage of Amex Offers deals.
How to maximize rewards with Amex Offers
Earning cash back with Amex Offers is easy, but there are a few extra steps you can take to make sure you receive the most possible rewards.
Sign up for offers regularly, even if you don't know you'll use them
When you add an Amex Offer to your card, new offers become available to you based on your preferences. If you ever scroll through available offers and don't see one that's right for you, consider adding an offer that aligns with your spending habits to your card anyway. You won't be penalized if you don't make the purchase and you'll potentially unlock new and better offers for the future. For example, if you frequently eat out but don't see a restaurant offer you want to visit, add similar offers to your cards to see new deals.
Stock up on gift cards
If you need to meet a high spend limit to take advantage of an Amex Offer, but don't need to spend that much at a particular store, consider stocking up on gift cards. Many grocery or office supply stores allow you to buy gift cards to retailers you are already planning to shop at, allowing you to meet spend requirements without spending money you hadn't planned. Just be sure to check the terms and conditions of the Amex Offer carefully, as some don't include gift cards toward purchase requirements.
Combine Amex Offers with paper coupons and promo codes
If you don't mind taking the time to find a coupon or promo code, you can usually still apply store promotions to an Amex Offer purchase. By stacking more than one deal, you can unlock incredible savings.
Add authorized users to your account
When you add an authorized user to your American Express account, that user will receive the same Amex Offers on their card. While it might not be an option for every user, adding a spouse or child as an authorized user can quickly multiply rewards.
Shop using cash back portals to stack offers
Another way to stack promotions is to utilize cash back portals to do your online shopping. Websites like Cashback Monitor are a great way to see where you can currently earn rewards. Take the following offer for example: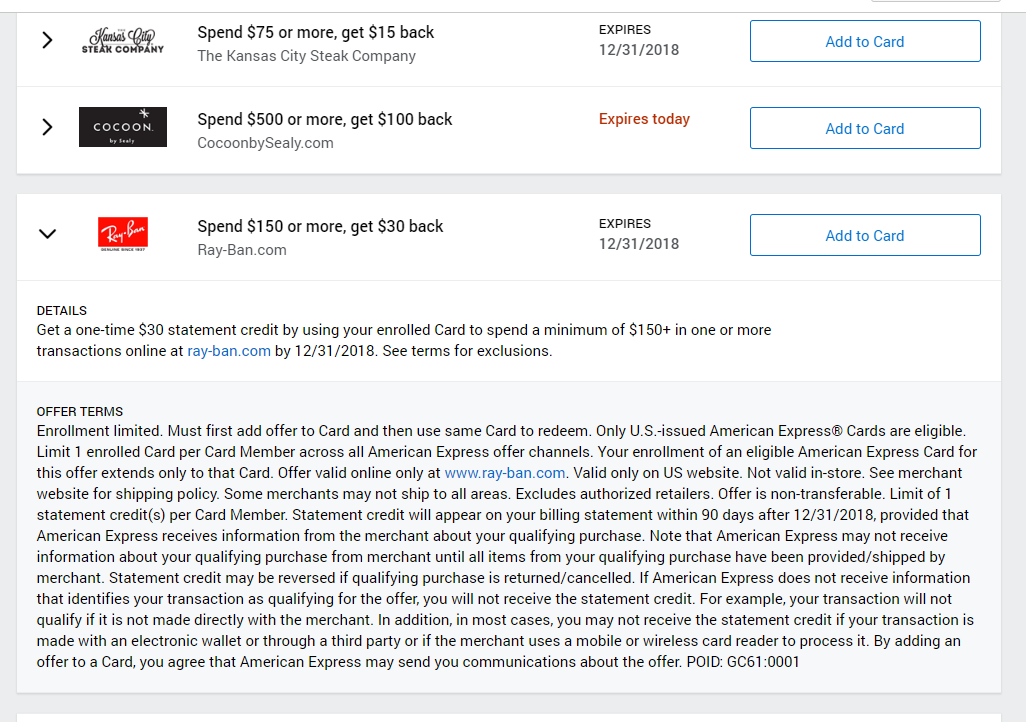 When you spend $150 or more online with Ray-Ban, you can earn $30 back. But Cashback Monitor might show additional cash back from sites like Ebates or Mr. Rebates for shopping on Ray-Ban through their portals. If you use one of these offers and then check out with your American Express card, you'll earn cash back for both deals.
Final thoughts
If you are a fan of cash back or rewards points, Amex Offers is an easy way to earn even more on the spending you do every day. Cardholders stockpiling Membership Rewards have even more to gain, since they can earn extra points by linking relevant promotions.
See Related: American Express Rewards guide: The best ways to earn and use Membership Rewards points, Changes coming to The Business Platinum® Card from American Express in 2019, American Express® Gold Card offers 35,000 point bonus
Editorial Disclaimer
The editorial content on this page is based solely on the objective assessment of our writers and is not driven by advertising dollars. It has not been provided or commissioned by the credit card issuers. However, we may receive compensation when you click on links to products from our partners.
If you are an American Express cardholder hoping to boost your rewards earning or rack up some extra cash back, it might be time to take advantage of Amex® Offers. By taking a few minutes to browse through card-linked offers and adding them to your account, you can start earning statement credits or