Summary
Discover has a lot of options for getting a cash advance; however, the fees make it a very costly method for obtaining cash. Here's what you need to know.
The content on this page is accurate as of the posting date; however, some of our partner offers may have expired. Please review our list of best credit cards, or use our CardMatch™ tool to find cards matched to your needs.
If you need cash in a flash, there's a way to get it from your credit line with a Discover cash advance. It's a costly option, but if you don't have an emergency fund or any other alternatives, it may be the solution you're looking for.
If you have a Discover credit card, the issuer makes it rather easy for cardholders to borrow cash against their credit line. Before you borrow cash against your credit line, you'll want to know what the terms are. This includes a high APR that is applied immediately, a high cash advance fee and any applicable ATM fees. All of these fees add up quickly. If you take out cash often, you'll be buried in fees and interest. Be sure to keep this in mind before you take out a cash advance.
What is a cash advance?
A cash advance with a Discover card offers a way to use your credit card to get cash, whether from an ATM or bank branch, by transferring the money to your checking account or by cashing a convenience check.
With a convenience check, you can use credit card funds in situations where you can't charge your credit card, such as when you pay your mortgage. However, this is generally not recommended, as the fees are incredibly high. A $1,500 mortgage, for example, would have a cash advance fee of $75 (5% of the cash advance) and a yearly interest charge around $375 (at a 24.99% APR).
A cash advance can easily turn into a dangerous kind of debt. It comes with its own terms, fees and APR that aren't at all budget-friendly, to say the least. For that reason, it's best to explore all other possible options first, such as personal loans or borrowing from family or friends.
What to consider before getting a cash advance
As we mentioned, cash advances can be extremely expensive. Let's take a look at how the costs add up.
Cash advance fee
Discover credit cards charge a cash advance fee of either $10 or 5%, whichever is greater. Add it to other possible fees, such as an ATM fee, and the cost of your cash advance goes up rather quickly.
If you need some cash while attending an event, for example, it adds up fast. If you withdraw $100 from an ATM using your Discover credit card, you'll be charged a $10 cash advance fee and an ATM fee from $3 to $5. You'll also will immediately accrue 25% interest on your $110 charge.
Higher interest rate
High interest rates make cash advances pretty expensive. At the moment, Discover card cash advances have a 24.99% APR. Unlike interest charged on purchases, cash advance interest is charged right away. If you don't repay the balance immediately, these charges will start to add up, quickly putting you in accumulating debt.
In our previous example of a $100 withdrawal, 24.99% interest would become a $24.99 charge over the course of a year. Do this ten times, and you'll be charged $250 for withdrawing $1,000. That's a lot of money you pay to the bank that doesn't do anything for you.
Cash advances can become detrimental to your financial health. If you don't have an emergency fund set up yet, it's best to look into other options before borrowing cash against your credit line. Or, if a cash advance seems to be the only option, look into credit cards with lower cash advance APRs.
How to get a cash advance with Discover
If you've exhausted other options and need to know how to do a cash advance with Discover, you have three options.
Stop by a bank branch or ATM
First, you can find a participating ATM or bank. To get cash from an ATM, make sure to create a PIN by logging in to your Discover account. If you choose to go to a bank, check if the location provides over-the-counter cash access – Discover recommends you call in before making the trip. At the bank, you'll need to show your ID and Discover credit card to receive a cash advance.
Get an online direct deposit
If you can wait for a few days, you can transfer cash straight to your checking account. Go to Discover's website and log in to your account. Once there, go to "Manage" on your dashboard and click "Cash Access." Then, click "Deposit cash into your checking account."  You'll be able to transfer cash advance funds to the bank account you've already used to make credit card payments.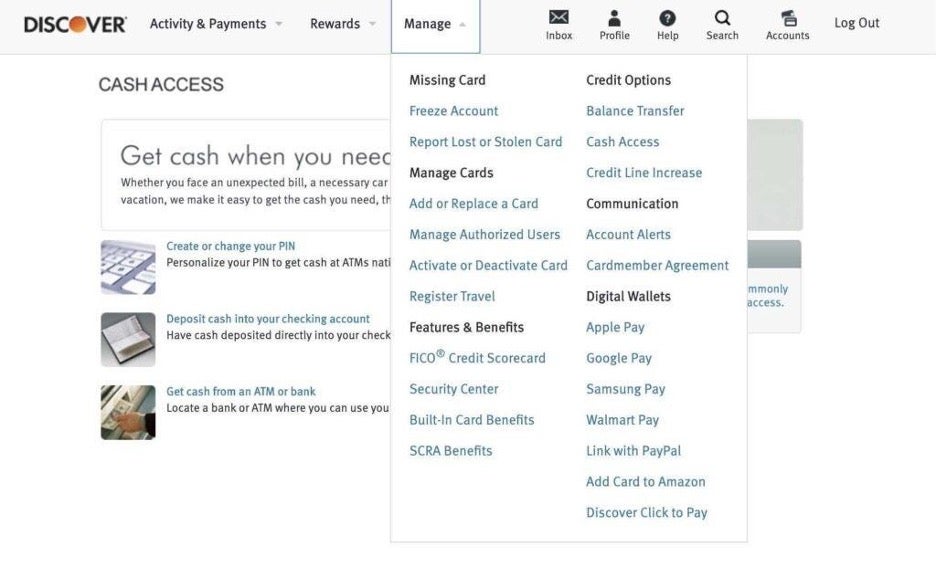 Keep in mind that while this option is rather convenient, it can take between one and three days for cash to deposit into your checking account.
Request convenience checks
If you're eligible, you can also request cash access checks. A convenience check is linked to your credit line and works similarly to a regular personal check. You can make this check in any amount up to your credit limit and pay it off on the terms your credit card issuer offers for cash advances.
To check if you're eligible to receive convenience checks from Discover, log in to your online account. Keep in mind that these checks will take a few days to be mailed to you.
Bottom line
A cash advance should be the "last resort" option, but if you do need to borrow cash against your Discover credit line, the issuer makes the process easy. Make sure to keep in mind fees and interest are quite high and need to be paid off quickly to avoid debt that gets out of control.
Editorial Disclaimer
The editorial content on this page is based solely on the objective assessment of our writers and is not driven by advertising dollars. It has not been provided or commissioned by the credit card issuers. However, we may receive compensation when you click on links to products from our partners.