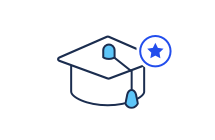 Student Credit Cards - Reviews
Student credit cards can be a good start for college students trying to build a credit history. Rewards programs are a popular feature with these cards, enabling cardholders to earn free travel and cash back on their spending, and even rewarding them for good grades. We also look at a variety of factors to evaluate and rate the best student cards, and award the most points for low interest rates and fees, and features that help students responsibly manage credit.
Editorial disclosure: All reviews are prepared by CreditCards.com staff. Opinions expressed therein are solely those of the reviewer and have not been reviewed or approved by any advertiser. The information, including card rates and fees, presented in the review is accurate as of the date of the review. Check the data at the top of this page and the bank's website for the most current information.