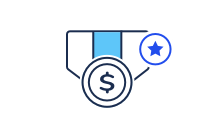 Rewards Credit Cards - Reviews
Credit card rewards come in many forms — from miles to cash back to points — that can redeemed for a variety of goodies. Some cards offer large sign-up bonuses, others offer extra earnings on bonus categories. Some cards charge annual fees. All these differences can make it difficult to compare.
We've created a rating system to cut through the complicated details and compare cards on a similar basis. Our ratings take into account the estimated value of their rewards, the ease of redeeming rewards and special perks and benefits. Check out the offers below from our partners.
Editorial disclosure: All reviews are prepared by CreditCards.com staff. Opinions expressed therein are solely those of the reviewer and have not been reviewed or approved by any advertiser. The information, including card rates and fees, presented in the review is accurate as of the date of the review. Check the data at the top of this page and the bank's website for the most current information.