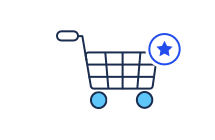 Retail Credit Cards - Reviews
For many retailers, a store-branded credit card is a great way to lure in repeat shoppers as well as ensnare customers in a load of debt due to high interest rates and the temptation to spend more than they can afford.
But retail cards aren't all bad. When used responsibly, they can be a good introduction to credit for consumers with a limited credit history. And there are a few stand-outs in this category that offer great rewards programs that allow you to earn a large amount of cash back on your regular spending.
We've reviewed the most popular store cards, looking at their rewards programs, special financing deals, APRs and other perks, as well as their potential pitfalls.
Editorial disclosure: All reviews are prepared by CreditCards.com staff. Opinions expressed therein are solely those of the reviewer and have not been reviewed or approved by any advertiser. The information, including card rates and fees, presented in the review is accurate as of the date of the review. Check the data at the top of this page and the bank's website for the most current information.