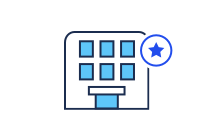 Hotel Credit Cards - Reviews
With high rewards rates, large sign-up bonuses and valuable perks such as free room upgrades and complimentary meals, hotel cards can be an appealing proposition for brand loyalists and frequent travelers alike.
We've rated and reviewed hotel cards from a variety of hotel chains, looking at the value of sign-up bonuses, rewards rates and perks, as well as the flexibility of redemption and the size and breadth of the hotel chain. We aim to help you find a hotel card that not only lets you rack up free hotel nights, but lets you redeem those free nights for times and locations that fit your travel needs. Check out these offers below from our partners.
Editorial disclosure: All reviews are prepared by CreditCards.com staff. Opinions expressed therein are solely those of the reviewer and have not been reviewed or approved by any advertiser. The information, including card rates and fees, presented in the review is accurate as of the date of the review. Check the data at the top of this page and the bank's website for the most current information.