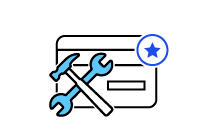 Credit Building Credit Cards - Reviews
If you're in the process of rebuilding your credit history, or, if you're a newbie looking to take the plunge into credit, a credit card can be a great tool for building up your score quickly. From secured cards to unsecured cards with annual fees – and even a few cards with rewards programs – there is an abundance of options for cardholders with poor, average and limited credit histories.
We've rated a selection of entry-level credit cards on their value for building credit – including rewards, APRs, benefits and credit-building features – to help you find the best card to help you quickly ramp up your credit score for the least expense possible.