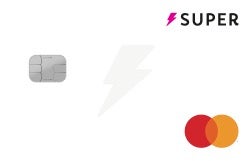 See Rates & Fees
Partner Offer
SuperCash™ Card
Reward Rates

10%

10% cashback* on SuperTravel purchases

5%

5% cashback* on SuperShop purchases for 500+ of your favorite store.

2%

2% cashback* on everyday purchases anywhere MasterCard® is accepted.
Balance Transfers Intro APR

N/A

Purchases Intro APR

N/A

Regular APR

N/A

Annual Fee
Highlights
SuperCash™ helps you do more with every dollar, so you can make the most out of life
Keep more of your money: No annual fees, no interest, no minimum requirements, no minimum deposit
Build your credit with ease! No credit checks when applying. Monitor your credit score in the app. Credit Bureau Reporting.
Rich rewards*: 10% SuperTravel, 5% SuperShop and 2% Everyday purchases
ATM cash access with surcharge free in-network withdrawals
Instant digital card issuance and physical card
Digital wallet
Direct deposit payroll and government benefits
Staff Review
Editor's Rating:

4.1 out of 5

Our take: This card stands out for its top-notch cash back and high credit limit, but it carries a few limitations that may make a traditional credit card more appealing for credit-builders.
All reviews are prepared by CreditCards.com staff. Opinions expressed therein are solely those of the reviewer. The information, including card rates and fees, presented in the review is accurate as of the date of the review.