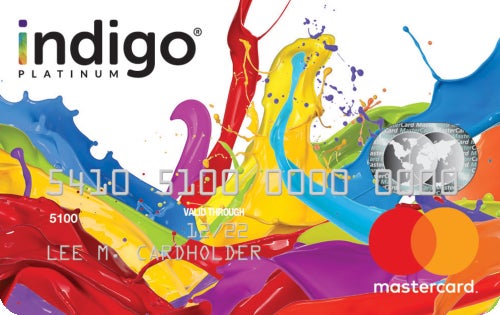 Partner Offer
Indigo® Platinum Mastercard®
Our rating:
1.7
Our writers, editors and industry experts score credit cards based on a variety of factors including card features, bonus offers and independent research. Credit card issuers have no say or influence on how we rate cards. The score seen here reflects the card's primary category rating. For more information, you can read about how we rate our cards.
Balance Transfers Intro APR

N/A

Purchases Intro APR

N/A

Regular APR

24.90%

Annual Fee

$0-$99
Highlights
No security deposit required so you can keep more money in your pocket
Pre-qualify without impacting your credit score
Shine brighter with a credit card as unique as you
Get access to a credit card you can use online, in store and in app where ever you see the Mastercard logo
Pre-qualify faster than a jet plane - all without impact your credit score
Pre-qualify faster than you can microwave a burrito!
Build on your credit history with style
A card for your wallet that pops just like you!
Worry free spending with $0 liability on unauthorized charges!
More credit for your everyday needs
Staff Review
Editor's Rating:

1.7 out of 5

Our take: The Indigo Platinum MasterCard is a pretty basic credit building card, offering a standard APR and credit limit with no rewards program. Unless you qualify for a lower annual fee, it's probably not worth what it costs to own.
All reviews are prepared by CreditCards.com staff. Opinions expressed therein are solely those of the reviewer. The information, including card rates and fees, presented in the review is accurate as of the date of the review.