Summary
Citi authorized users can be added quickly and easily. There is no charge, but there are risks that you should be aware of before adding someone to your account.
The content on this page is accurate as of the posting date; however, some of our partner offers may have expired. Please review our list of best credit cards, or use our CardMatch™ tool to find cards matched to your needs.
When someone has trouble getting approved for their own credit card, they may be unsure of how to start building their credit score. One way to build credit history is by being added as an authorized user on someone else's existing card, which can help both people.
The primary cardholder earns rewards earned from the authorized user's purchases, and the authorized user gets to use the credit card as if it were their own. Additionally, the authorized user benefits from the card's usage to build their credit score. Here's how to add an authorized user to a Citi credit card in five simple steps.
How to add an authorized user to your Citi account
Citibank allows cardholders to add authorized users to their credit cards online, over the phone or through the Citi mobile app. Additionally, if there is a Citi branch near you, you can walk in and have an employee add one for you. The following steps explain how to add an authorized user to a Citi credit card through the bank's online portal:
1. Log in to your Citi.com account
Open your internet browser and go to Citi.com. Enter your user ID and password, then click the "Sign On" button.

2. Navigate to 'Services'
Hover your mouse over "Services" on the menu bar at the top of the screen. A drop-down menu will pop-up for you to click on "Credit Card Services."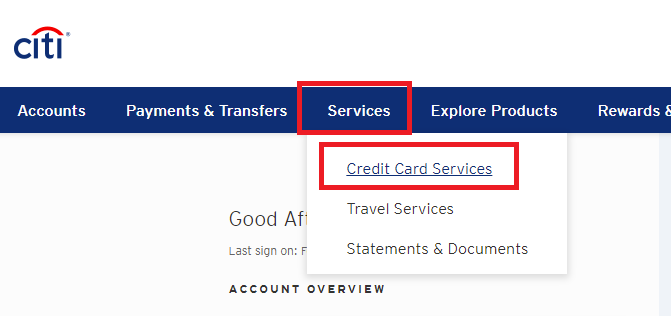 3. Select 'Authorized Users'
Click on "Authorized Users" to add your authorized user.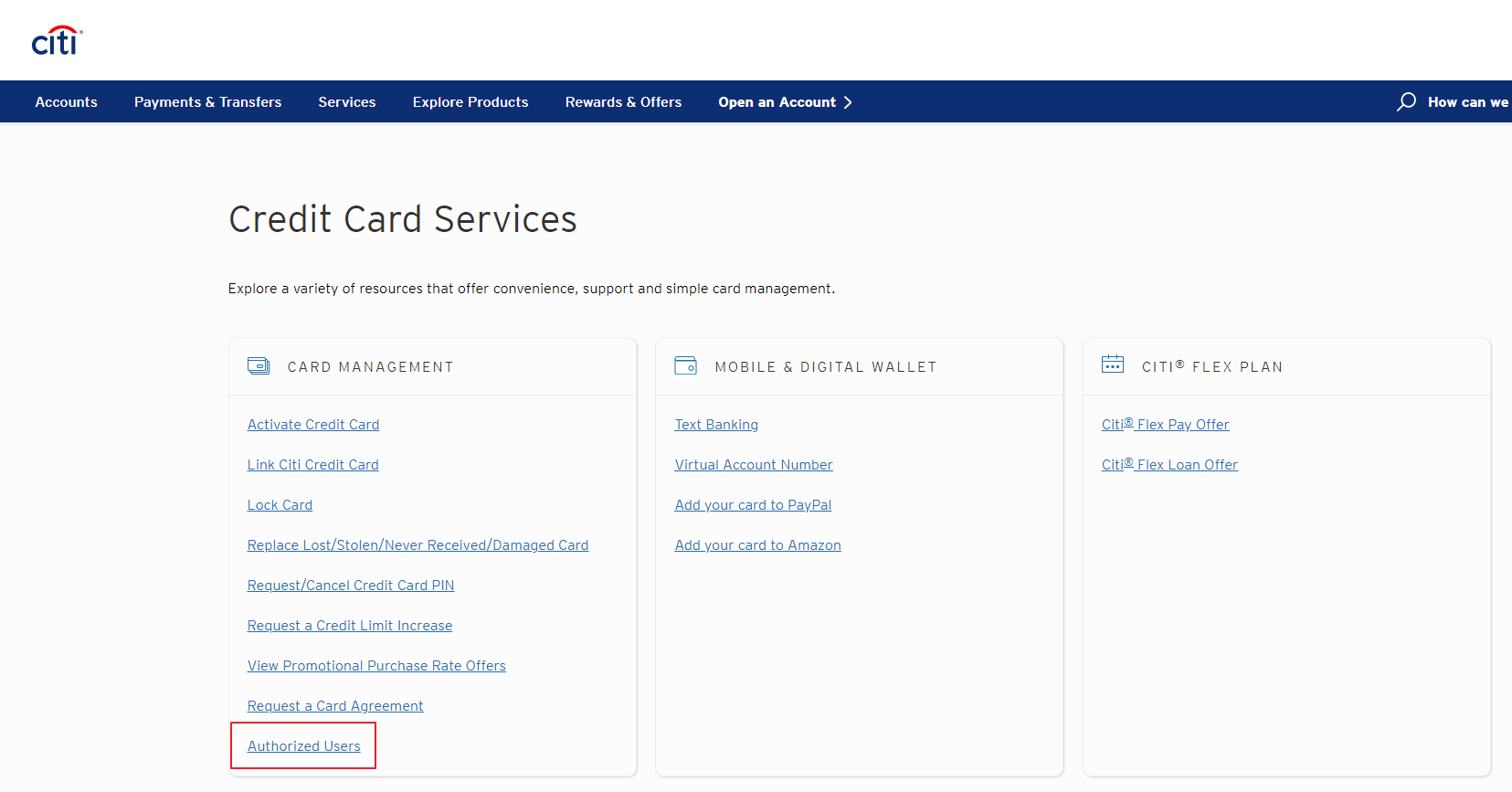 4. Enter authorized user's personal information and permissions
Enter your authorized user's personal information. You'll need to provide their first and last name, date of birth and address. Their middle initial and phone number are optional. If you have more than one Citi credit card, select which one to add the authorized user to.
The new credit card will be mailed to your home address. You can also choose whether the authorized user can have online access to your account.

5. Add authorized user
Once you've provided all the information necessary to add an authorized user to your Citi credit card, click "Add" to finalize the process.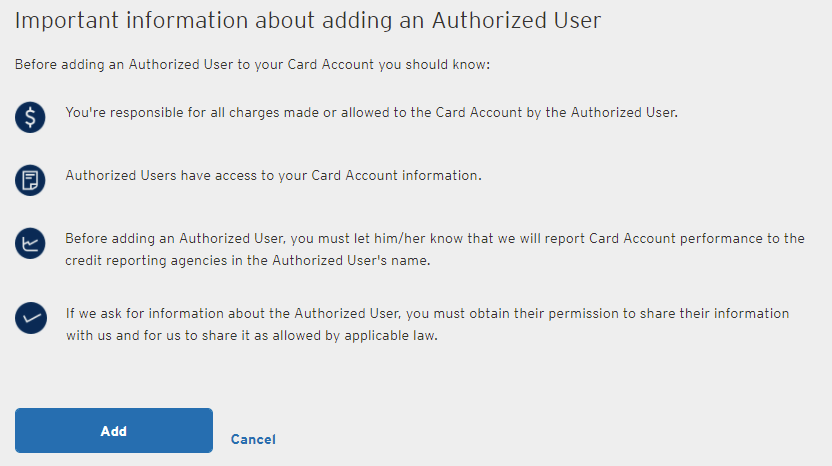 Is there a fee for adding an authorized user to your Citi credit card account?
There is no fee for adding an authorized user to a Citi card. In fact, you can add up to 10 authorized users at no cost. This includes the premium Citi® / AAdvantage® Executive World Elite Mastercard®, which has a $450 annual fee and includes complimentary admission to Admirals Club lounges for all cardholders.
Should you add an authorized user to your Citi card?
Before adding someone as an authorized user, it is important to understand the pros and cons. If you're not careful, the negative effects could significantly impact your credit for years.
Pros of adding authorized users
Minimal credit requirements. In most cases, issuers will approve the addition of an authorized user because the account is based on the primary cardholder's credit.
Avoid paying extra annual fees. Instead of two people each applying for the same card to receive benefits, one can be an authorized user without paying an extra annual fee.
Share benefits of the cards. Citi extends the benefits of the primary cardholder to all authorized users. This includes perks like the first bag checked free, airport lounge access and more, depending on which card they are added to.
Increased rewards earnings. With a rewards card, any purchases, even those under bonus categories, made by the authorized user will add to the primary cardholder's rewards balance.
Build credit history. Card information is reported to the credit bureaus for all cardholders, which includes the primary cardholder and all authorized users.
Cons of adding authorized users
Mistakes can affect everyone's credit. If the authorized user misses a payment or defaults on the account, this negative information will affect the credit report of all cardholders.
Authorized users have access to card information. Citi allows authorized users to view the card's transaction history, the card's account balance and the minimum payment due. They can also report lost or stolen cards, initiate billing disputes and request refund checks.
Cannot set a credit limit for authorized users. Citi does not allow the primary cardholder to set individual credit limits for authorized users. Authorized users have access to the entire credit limit extended to the credit card. They can spend up to your limit, and you, the primary cardholder, are responsible for their purchases if they do not or are unable to pay for their debt.
Bottom line
Adding an authorized user to your Citi credit card is quick and easy to do. Doing so grants access to credit and card benefits to the authorized user. Plus, all of the rewards from their purchases go to the primary cardholder.
While the upsides are appealing, you must keep the risks in mind. Authorized users have access to your entire credit limit, and you are financially responsible for all their purchases. Additionally, they have access to personal information, such as the card's balance and monthly payment, that you may not want to disclose. For this reason, some people limit the time someone is an authorized user or remove them once they can qualify for a credit card of their own.
Editorial Disclaimer
The editorial content on this page is based solely on the objective assessment of our writers and is not driven by advertising dollars. It has not been provided or commissioned by the credit card issuers. However, we may receive compensation when you click on links to products from our partners.