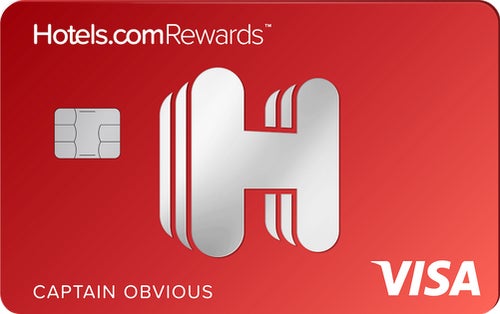 See Rates & Fees
Partner Offer
Hotels.com® Rewards Visa® Credit Card
Intro Bonus

Get 2 Reward Nights Worth $250 Total

Get 2 reward nights worth $250 total (max $125 per night)*, when you spend $1,000 on purchases in the first 3 months. *Excludes taxes and fees. If a night costs less than $125, you won't get the difference.

Reward Rates

Collect 1 stamp each time you spend $500 on purchases with your card and collect 1 stamp for every night you stay at any eligible property booked on Hotels.com
Balance Transfers Intro APR

N/A

Purchases Intro APR

N/A

Regular APR

14.99% to 22.99% Variable APR

Annual Fee

$0
Highlights
Get 2 reward nights worth $250 total (max $125 per night)*, when you spend $1,000 on purchases in the first 3 months. *Excludes taxes and fees. If a night costs less than $125, you won't get the difference.
Collect 1 stamp each time you spend $500 on purchases with your card and collect 1 stamp for every night you stay at any eligible property booked on Hotels.com. When you collect 10 stamps, you'll get 1 reward night to redeem on future bookings through Hotels.com.
Choose from over 500,000 properties in 200+ countries around the world.
$0 Annual Fee.
For the first year, you'll enjoy Silver membership exclusives such as free breakfast, airport transfers, free WiFi and more at select properties.
Pay your monthly cell phone bill with your card and get up to $600 protection against damage or theft (subject to a $25 deductible).
No foreign currency conversion fee.
Offers reimbursement for non-refundable passenger fare if your trip is interrupted or cancelled for a covered reason, when you passenger fare is booked with your card.
Staff Review
Editor's Rating:

3.0 out of 5

Our take: The Hotels.com Rewards Visa Credit Card offers a little more than 2 percent back in rewards, but since you can only redeem rewards with Hotels.com, the card is inherently limiting. See rates and fees
All reviews are prepared by CreditCards.com staff. Opinions expressed therein are solely those of the reviewer. The information, including card rates and fees, presented in the review is accurate as of the date of the review.