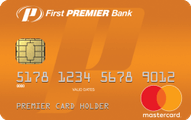 Rewards Rate

This card doesn't offer cash back, miles, or points

At A Glance
Annual Fee

See Issuer Website

Balance Transfer Intro APR

N/A

Regular APR

See Issuer Website
See More Details
Must have a checking account to qualify
Only you can build a good credit history. Make your payments on time each month, and keep your balance low relative to the credit limit, for positive marks on your credit report each month.
First PREMIER Bank credit card activity is reported to the Consumer Reporting Agencies each month.
Track your progress. Your quarterly FICO Score is provided for free on your monthly billing statement
Credit scores are used to represent the creditworthiness of a person and may be one indicator to the credit type you are eligible for. However, credit score alone does not guarantee or imply approval for any First PREMIER® Bank product.
Rates & Fees
Annual Fee

See Issuer Website

Intro Purchase APR

N/A

Regular APR

See Issuer Website

Intro Balance Transfers APR

N/A