Summary
Millennials are confident about their financial knowledge, but they want advice about savings, budgeting and credit cards in particular
The editorial content below is based solely on the objective assessment of our writers and is not driven by advertising dollars. However, we may receive compensation when you click on links to products from our partners. Learn more about our advertising policy.
The content on this page is accurate as of the posting date; however, some of the offers mentioned may have expired. Please see the bank's website for the most current version of card offers; and please review our list of best credit cards, or use our CardMatch™ tool to find cards matched to your needs.
Despite millennials' confidence in their financial knowledge, they want advice on three topics in particular: savings, budgeting and credit cards.
In a study conducted by Angus Reid Public Opinion for TD Bank, 59 percent of those polled reported being "extremely" or "very" knowledgeable about day-to-day banking products. Still, 26 percent of those polled felt they needed advice on credit cards. More men than women said they want help on the subject, by a margin of 29 percent to 23 percent.
Some 38 percent of 501 Hispanics polled wanted advice on credit cards, making that product the group's second highest concern. The group most wanted advice on savings (45 percent).
More millennials reported having a checking account (100 percent) or savings account (82 percent) than a credit card (72 percent). Women (68 percent) and Hispanics (64 percent) were less likely to have a card than men as a whole (75 percent).
The TD Bank Financial Education Survey polled 2,031 Americans ages 18-34 from Jan. 28 to Feb. 10, 2014.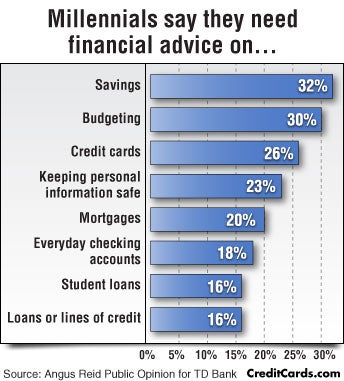 See related:
Infographic: Millennials have unhealthy credit habits
,
More infographics
To use the graphic on your site, use the following code:
 <center><a href="https://www.creditcards.com/credit-card-news/what-financial-advice-millennials-need-1701.php"><img alt="CreditCards.com infographic: Which financial topics millennials say they most need advice on" border="0″ src="https://www.creditcards.com/credit-card-news/images/infographic-financial-topics.jpg" /></a> </center>