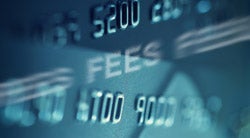 2011 Credit Card Fee Survey
A year after the Credit CARD Act's major provisions went into effect, predictions of an onslaught of fees haven't come true.
The CreditCards.com/Bankrate.com annual credit card fee survey tracks the amount of fees charged for various  credit card related services by the 50 largest card-issuing banks and credit unions based on credit card balances. This was the first year that the survey included secured credit cards. These are cards marketed to people with bad credit who want to rebuild it into a good credit history, or to people with no credit history who want to establish credit for the first time.
Applicants for these cards must deposit money into an account to secure their borrowing. When they use the secured card to make purchases, they are essentially borrowing and paying back their own money. Credit counselors advise secured card users to make small purchases and pay off the entire balance on time each month to avoid interest charges and to show they are good credit risks.
The survey of secured card offers was conducted in May 2011.
Here are the 2011 secured card fees for the BANK/CARD NAME HERE secured card:
US Bank
APR(%)
20.99
Annual fee
$35
Application fee
None
Minimum deposit
$300
Other fees, conditions
Credit Limit is equal to deposit ($300 – $5,000; additional deposits in $100 increments) No other fees. Reports to all 3 credit bureaus. Secured deposit is refunded by deposit into one's account or as requested. Interest is paid at 0.10%.
See related:2011 credit card fee survey, Secured cards' fees: Build credit, for a price, Chart: Find your card's fees, Compare low-rate credit cards