University of Texas students differ on new credit card law's worth
Co-signers shouldn't be needed, some say, though others applaud new law
School info

School: University of Texas (UT)
State: Texas
City: Austin
Colors:

Enrollment: More than 50,000
Website: http://www.utexas.edu
What other students are saying

Founded in 1883 and named one of the original eight "public ivy" institutions, UT is located a mile from the state capitol. In the 1920s, its expansion was partly funded by the discovery of oil on campus grounds.
A 2007 Texas state law bans credit card marketing at public or private colleges and universities -- unless conducted in designated areas on campus. The law also bans offering incentives to sign up for credit cards. Organizations marketing on Texas college campuses must also provide financial education programs for students.
Here's what some students at the University of Texas have to say about the new credit card law and managing credit cards:

"Once you're at a university, you have this newfound freedom, and you should be able to get a card without your parents co-signing for you. Going into it, you just have to know that it's money you are borrowing; it's not free money. You just have to be responsible about it."
-- Jeraldine Gaona, 18

The 307-foot tall UT Tower, built in 1937, serves as a landmark and symbol of UT pride.

"[The law] would be good in the sense that I don't think when I was 18 I was responsible enough to have a credit card. And I've had friends who obviously have had credit cards, and they are still battling debt. But, at the same time, I think it's everyone's choice. I mean, they are adults; they should be able to figure it out themselves."
-- Chris Augustine, 23

"I could see how the law could help for kids that get a credit card when they are 18 and destroy their credit before they know what they are doing."
-- Kieth May, 20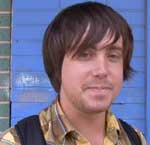 "I think that's a good rule. Younger people will just abuse a credit card and not worry about paying it back on time because it doesn't matter much to them. I think they don't understand how being in debt would affect them. "
-- Casey Biggs, 22
Video: UT students respond to law changes
More about credit cards and students
See related: Sample credit card contract for parents and their young adult children, Law alters cozy relationship between colleges, credit card issuers, Study: Undergraduates relying heavily on credit cards, A comprehensive guide to the Credit CARD Act of 2009, Obama signs new credit card reforms into law, Interactive timeline: How the credit card bill became law, when its provisions take effect, Will the new credit card law hurt more consumers than it helps?, Annual fees return in credit card mail offers, How to cope until the new credit card rules take effect, What the new credit card rules mean for you, New credit card rules don't cover business, corporate credit cards, Federal banking regulators finalize sweeping rule changes for credit cards
Three most recent Student credit cards, young credit stories: