New credit card sparks debate among students at Missouri
Some say law seems 'arbitrary,' but others say students need the help
School info

School: University of Missouri (MU)
State: Missouri
City: Columbia
Colors:


Enrollment: More than 67,000 on
four campuses
Website: http://www.missouri.edu
What other students are saying

Founded in 1839, the University of Missouri at Columbia was the first public university founded west of the Mississippi. Among its 270 degree programs is its honored journalism program, the world's first, established in 1908.
At MU, there's a policy that effectively bans credit card companies from setting up tables around campus, according to Joe Hayes, Missouri Student Unions assistant director. He has worked for the university since 2005, and in that time, no credit card companies have recruited on campus. Hayes says that is because the university has made it difficult for the companies.
"We charge. For noncampus users, we charge $150 per table," he says. "And that money goes back to student programming."
The university's policy toward credit card vendors states "No promotional 'gifts,' i.e. 'free' items, offered as incentives for filling out an application will be permitted."
Hayes says all those requirements are in place to protect MU's students.
"We see it as kind of our responsibility as educators to let them know what they're getting themselves into," says Hayes. "That's the whole point of an educational institution. The education doesn't end in the classrooms."
Here's what some students at the University of Missouri have to say about the new credit card law and managing credit cards:
"I'm not in favor of [legislation] like this. Especially the arbitrary age of 21 is nothing that really shows in my opinion a level of responsibility. We should have the choice of whether we have a credit card or not. People who get into debt -- that's their fault. Legislation should have no say over that."
-- Derrick Davis, 19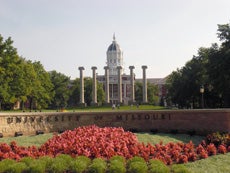 The Francis Quadrangle where six columns remain from MU's first academic building that burned in the late 1800s. In the background is Jesse Hall, an administrative building.
Photo: Josh Barone
"If someone gets a card at 18 as opposed to 21, what's the difference? What have they learned in those three years? I don't think the age is going to make them that much more responsible."
-- Travis Cornejo, 19
"People clearly don't know how to spend within their means. I can see it getting out of control very quickly. I wouldn't want to spend my life playing catch-up."
-- Theresa Berens, 19
"From my personal experience, most people my age don't have any idea what they're doing to their credit."
-- Krissie McDaniel, 18
Video: Missouri students respond to law changes
More about credit cards and students
See related: Sample credit card contract for parents and their young adult children, Law alters cozy relationship between colleges, credit card issuers, Study: Undergraduates relying heavily on credit cards, A comprehensive guide to the Credit CARD Act of 2009, Obama signs new credit card reforms into law, Interactive timeline: How the credit card bill became law, when its provisions take effect, Will the new credit card law hurt more consumers than it helps?, Annual fees return in credit card mail offers, How to cope until the new credit card rules take effect, What the new credit card rules mean for you, New credit card rules don't cover business, corporate credit cards, Federal banking regulators finalize sweeping rule changes for credit cards
Three most recent Student credit cards, young credit stories: