University of Miami students discuss new credit card law
To some, it's an unnecessary hindrance; to others, it's a way to prevent debt trouble
School info

School: University of Miami (UM)
State: Florida
City: Coral Gables
Colors:


Enrollment: More than 15,000
Website: http://www.miami.edu
What other students are saying

The University of Miami, also known as UM or "The U," was founded amid South Florida's first land boom in 1925. A land bust followed soon after, and the university barely hung on. But, as Florida rebounded, so did the university, eventually offering 115 undergraduate and 114 graduate areas of study.
Credit card marketing ended about five years ago on the campus -- after a gradual increase in restrictions imposed by the university, says Dan Westbrook, director of the University Center. His office schedules and registers vendors in the breezeway, a busy corridor of student activity located outside of the campus bookstore. Student organizations and outside vendors hawk causes, merchandise and events on tables along the breezeway.
UM's restricted policy for credit card vendors evolved over a period of years, Westbrook says. "Open" credit-card marketing was allowed 10-15 years ago, during which time any company could schedule time in the breezeway, he says.
When credit card companies used incentives, such as T-shirt giveaways, to attract students to the sign-up tables, students went after the merchandise, not the credit cards."Most students would just leave fake names and get the free stuff," Westbrook says."The credit card companies caught on and started asking for IDs."
Wary that students were becoming overwhelmed by the offers, the university began stepping back from open marketing. The first step: allowing only one credit card company on campus a day. Next, UM began raising the fees credit card vendors pay to market on campus. Finally, the companies were allowed only if they offered accompanying credit counseling, Westbrook says.
"They aren't trying to market students in the breezeway like they used to," said Westbrook, who has worked at UM since 1986. "Those days are gone, as far as UM is concerned."
Westbrook says the university's "more responsible approach" allows only the University of Miami Alumni Association's Bank of America Credit Card to be promoted on campus. The association mainly targets alumni, Westbrook says.
Even though restrictions are in place, promotional fliers for credit card applications still show up on campus bulletin boards.
"They are removed as soon as they are found," Westbrook says.
Here's what some students at the University of Miami say about the new credit card law and managing credit cards:
"It is easier when you have your own credit card... When I grocery shop, it is easier to put the purchases on your card. And for online shopping, I wouldn't feel comfortable shopping online using a bank card. A credit card is a safer outlet."
-- Danielle Kaslow, 20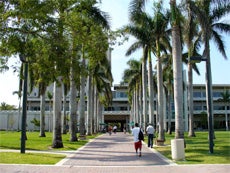 Students walking to the Otto G. Richter Library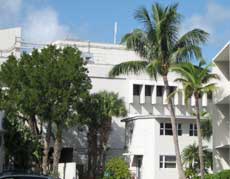 The Applied Marine Physics Building
"I don't really resent the new law. It's preventing people from going into debt at an earlier age."
-- Cara Rosenfeld, 19
More about credit cards and students
See related: Sample credit card contract for parents and their young adult children, Law alters cozy relationship between colleges, credit card issuers, Study: Undergraduates relying heavily on credit cards, A comprehensive guide to the Credit CARD Act of 2009, Obama signs new credit card reforms into law, Interactive timeline: How the credit card bill became law, when its provisions take effect, Will the new credit card law hurt more consumers than it helps?, Annual fees return in credit card mail offers, How to cope until the new credit card rules take effect, What the new credit card rules mean for you, New credit card rules don't cover business, corporate credit cards, Federal banking regulators finalize sweeping rule changes for credit cards
Three most recent Student credit cards, young credit stories: