Summary
Ownership of of general-purpose, reloadable cards climbed 11 percent from 2011 to 2013 among younger adults, a study by the Federal Reserve Bank of Philadelphia finds
The editorial content below is based solely on the objective assessment of our writers and is not driven by advertising dollars. However, we may receive compensation when you click on links to products from our partners. Learn more about our advertising policy.
The content on this page is accurate as of the posting date; however, some of the offers mentioned may have expired. Please see the bank's website for the most current version of card offers; and please review our list of best credit cards, or use our CardMatch™ tool to find cards matched to your needs.
Ownership of general-purpose reloadable cards is surging among millennials, a study by the Federal Reserve Bank of Philadelphia finds.
While ownership of the cards is increasing across most age groups, none compares to consumers in the 18-32 age bracket — the millennial generation. There was an 11 percent increase from August 2012 to the same period in 2013 for millennials, meaning almost half of millennials had these cards in August 2013. Use among those in the next-oldest age group, Generation Xers ages 33-48, increased by 8 percent during the same period to 35 percent.
Only consumers age 68 and up remained unchanged, at 4 percent. Baby boomers, ages 49-67, only increased by 2 percent to 18 percent in August 2013.
"Millennials with Money: A New Look at Who Uses GPR Prepaid Cards" was published by the Federal Reserve Bank of Philadelphia and Phoenix Marketing International in September 2014. It looked at reloadable prepaid cards that, as their name implies, can be used at any merchant anywhere that accepts cards in that card's network. Some 4,201 adults who were identified as financial decision-makers were polled in August 2013 and compared to 4,200 adults polled in August 2012.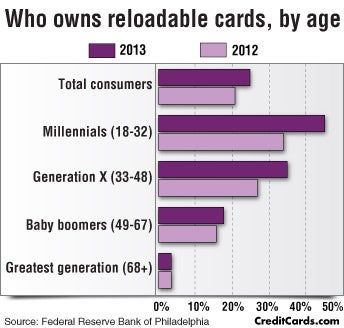 See related:
Debt reduction consumes millennials' budgets
,
More infographics
To use the graphic on your site, use the following code:
 <center><a href="https://www.creditcards.com/credit-card-news/study-use-reloadable-surging-millennials-1701.php"><img alt="Use of reloadable cards surging among millennials" border="0″ src="https://www.creditcards.com/credit-card-news/images/cc-ownership-by-age-infographic.jpg" /></a> </center>