Southern Cal students opine on new credit card law
USC students OK with law, if it'll help people be smarter with their cards
School info

School: University of Southern
California (USC)
State: California
City: Los Angeles
Colors:

Enrollment: About 33,500
Website: http://www.usc.edu
What other students are saying

Located in the heart of Los Angeles, the University of Southern California is the oldest private research university in the West. The school boasts of being a global center for arts, technology and international trade.
There is no credit card marketing on the USC campus. Chapter 1.3 of the California Education Code, Sections 99030, also known as the Student Financial Responsibility Act, stipulates that gifts should not be offered in tandem with credit card applications and that sites should be limited as to where credit cards may be marketed.
The law also encourages debt education and counseling to be a part of orientation for incoming students.
"We would not allow credit card companies to come onto our campus to solicit to students," says Patrick Bailey, associate dean and director of student life and involvement. "The university has an agreement with a credit card company that if they so choose, could come to campus, but to my knowledge, they have not chosen to do so."
Here's what some students at the University of Southern California have to say about the new credit card law and managing credit cards:
"I would definitely ask my parents to co-sign if I applied for a card anyway. It just seems like the smart thing to do... Both of my parents went into some credit card debt in their 20s, and they've spent a lot of time rebuilding their credit score, so I think they're pretty stable now."
-- Natalie Chau, 19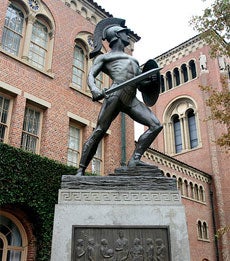 "Tommy Trojan" on the campus of USC
Photo: Bestweekevr
"It seems pretty dumb of people to think a credit card is free money, but some people get themselves into that situation. The stories I've heard of $1,200 in shoes or vacations to Hawaii are scary."
-- Victoria Giordano, 20
"It doesn't make sense to have a credit card without a steady income. I mean, how do you ever plan to pay it off?"
-- Marcus Jonsson, 20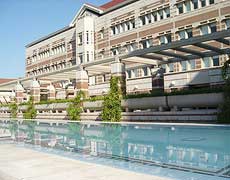 The Thomas and Dorothy Leavey Library
Photo: Bestweekevr
"My parents encourage me to use the credit card because we're on a plan where we can earn money back by using the card. If I didn't have it, I would have to budget a lot differently. I would eat out much less often."
--Brian Goldsworthy, 19
More about credit cards and students
See related: Sample credit card contract for parents and their young adult children, Law alters cozy relationship between colleges, credit card issuers, Study: Undergraduates relying heavily on credit cards, A comprehensive guide to the Credit CARD Act of 2009, Obama signs new credit card reforms into law, Interactive timeline: How the credit card bill became law, when its provisions take effect, Will the new credit card law hurt more consumers than it helps?, Annual fees return in credit card mail offers, How to cope until the new credit card rules take effect, What the new credit card rules mean for you, New credit card rules don't cover business, corporate credit cards, Federal banking regulators finalize sweeping rule changes for credit cards
Three most recent Student credit cards, young credit stories: