Summary
North Americans are shopping online while on the job, in bed, at restaurants, in the shower, at weddings and at funerals, MasterCard's Psyche of Shopping survey found
The editorial content below is based solely on the objective assessment of our writers and is not driven by advertising dollars. However, we may receive compensation when you click on links to products from our partners. Learn more about our advertising policy.
The content on this page is accurate as of the posting date; however, some of the offers mentioned may have expired. Please see the bank's website for the most current version of card offers; and please review our list of best credit cards, or use our CardMatch™ tool to find cards matched to your needs.
Where's the craziest place you've done your online shopping? In bed? At a wedding? In the bathroom?
MasterCard's "Psyche of Shopping" survey found that since North Americans can now take their mobile devices anywhere, we have begun to shop with them anywhere.
Not too suprisingly, the survey found the places we shop from most often are where we spend the most time — in bed, and at work. Nearly two out of five North American consumers (37 percent) take their mobile devices to bed to shop. At work is next, at 26 percent.
Just behind shopping on the job is maybe the least-conventional online shopping locale — the bathroom. Nearly 1 in 4 North Americans (24 percent) say they have digitally visited a business while attending to their own.
At the rarer end, 4 percent of North Americans say they shop online or via mobile app while showering (dangerous?) or at a wedding (really?), and 2 percent at a funeral (ghoulish?).
The survey doesn't break down whether men or women shop online more, but it did find some gender differences. Women in North America are more likely than men to have shopped online both in bed (40 percent versus 34 percent) and in the bathroom (28 percent versus 20 percent).
The study, released in September, was conducted via online questionnaire from Aug. 10-11, 2015, and included a census-balanced (age, gender and region) sampling of 1,045 American and 523 Canadian adults. The poll's full sample has a margin of error of plus or minus 2.5 percentage points at the 95 percent confidence level.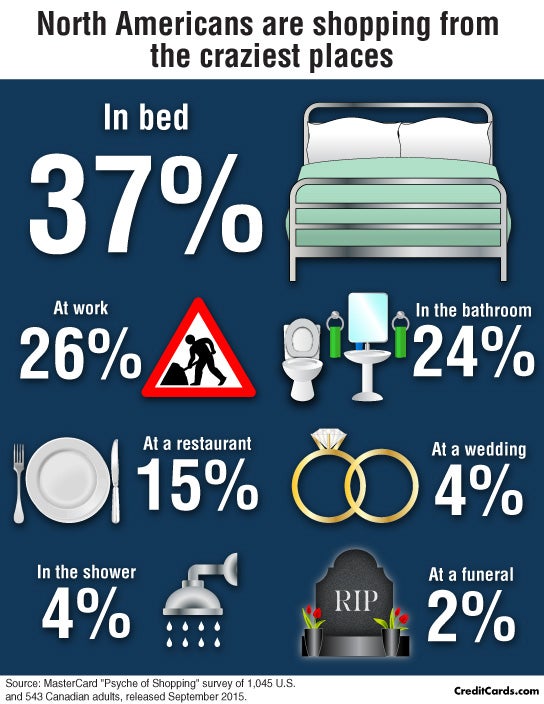 See related:
More infographics
To use the graphic on your site, use the following code:
 <center><a href="https://www.creditcards.com/credit-card-news/poll-craziest-places-online-shopping-1701.php"><img alt="CreditCards.com infographic: Crazy places where people are shopping online" border="0″ src="https://www.creditcards.com/credit-card-news/images/crazy-places-americans-shop.jpg" /></a> </center>