Summary
Findings of a study by the Pew Charitable Trusts suggest younger generations are growing more wary of borrowing
The editorial content below is based solely on the objective assessment of our writers and is not driven by advertising dollars. However, we may receive compensation when you click on links to products from our partners. Learn more about our advertising policy.
The content on this page is accurate as of the posting date; however, some of the offers mentioned may have expired. Please see the bank's website for the most current version of card offers; and please review our list of best credit cards, or use our CardMatch™ tool to find cards matched to your needs.
Eight in 10 Americans walk around with some form of debt burden, according to new research from the Pew Charitable Trusts that takes a close overall look at the liabilities on families' balance sheets.
Our relationship with debt is varied and changes with age, according to the study titled "The Complex State of American Debt," released in July 2015.
Among its findings:
Mortgage debt is the most common form of debt, carried by 44 percent of all Americans, with the median debt at $103,000. Gen Xers have the highest mortgage debt, in part because of when many of them made their purchases during the run-up of housing prices before the Great Recession.
After mortgage debt, the most common debts are unpaid credit card balances (39 percent), car loans (37 percent) and student loans (21 percent).
The younger generations (Generation X and millennials) are more likely to have debt, with more than 4 in 10 millennials beginning their lives with student debt. But an increasing number of those in the older generations (baby boomers and the silent generation) are carrying debt into retirement.
Overall, nearly 7 in 10 (69 percent) say debt is a necessity, even if they prefer not to have it.
A similar number (68 percent) agree with the statement that "loans and credit cards have expanded my opportunities." However, that attitude of seeing debt in a positive light may be shifting. Millennials and Gen Xers were significantly less likely to say debt has expanded their opportunities.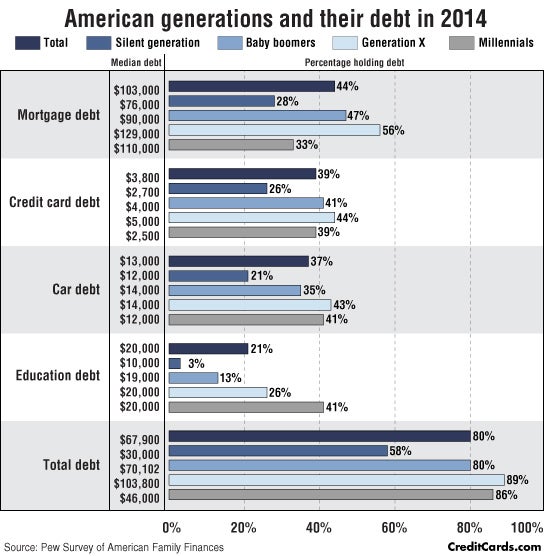 See related:
Household debt report: Card balances highest since 2010
To use the graphic on your site, use the following code:
 <center><a href="https://www.creditcards.com/credit-card-news/pew-study-americans-debt-1701.php"><img alt="CreditCards.com infographic: American generations and their debts" border="0″ src="https://www.creditcards.com/credit-card-news/images/most-americans-had-debt-2014.jpg" /></a> </center>