Summary
Here's the 2011 fee schedule for the Pentagon FCU Standard credit card, according to the CreditCards.com/Bankrate.com annual Credit Card Fee Survey
The editorial content below is based solely on the objective assessment of our writers and is not driven by advertising dollars. However, we may receive compensation when you click on links to products from our partners. Learn more about our advertising policy.
The content on this page is accurate as of the posting date; however, some of the offers mentioned may have expired. Please see the bank's website for the most current version of card offers; and please review our list of best credit cards, or use our CardMatch™ tool to find cards matched to your needs.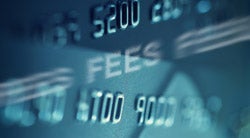 2011 Credit Card Fee Survey
A year after the Credit CARD Act's major provisions went into effect, predictions of an onslaught of fees haven't come true.
The CreditCards.com/Bankrate.com 2011 Credit Card Fee Survey tracks the fees charged for various card-related services by the 50 largest card-issuing banks and credit unions, based on their total volume of credit card lending. The 2011 survey looks at 66 cards, selected because they were among those most widely issued to consumers with average to good credit. The survey of card offers was conducted in May 2011.
Despite industry analysts' predictions that the Credit CARD Act of 2009 would cause issuers to reinstate annual fees and introduce a host of new fees, that hasn't happened. The survey shows the vast majority of cards reviewed (95 percent) had no annual fee and there hasn't been an onslaught of new fees.
Here are the 2011 fees for the Pentagon FCU Standard card.
Pentagon FCU Standard
Annual fee
None
Over-limit fee
None
Late fee
$10 if balance is less than $1000; $20 if balance is $1,000-$2,000; $25 if balance is greater than $2,000
Cash advance fee
None
Balance transfer fee
3% – $10 minimum/$250 maximum
Foreign transaction fee
2% of each transaction in U.S. dollars
Returned payment fee
$30
Stop payment on a convenience check fee
$15
Statement copy fee
$1.50
Overdraft fee
Not offered
Card replacement fee
None
See related: 2011 credit card fee survey, Secured cards' fees: Build credit, for a price, Chart: Find your card's fees, Compare low-rate credit cards