Penn State students speak out about new credit card law
Most interviewed think age-based restrictions are wise move
School info

School: Pennsylvania State University (PSU)
State: Pennsylvania
City: State College
Colors:


Enrollment: About 44,000 on main campus; 84,00 on all 24 campuses
Website: http://www.psu.edu
What other students are saying

The Pennsylvania State University is a land-grant university founded in 1855. Often called a "public ivy" school, it houses the oldest operating university research reactor, and its law school is the state's oldest.
Credit card marketing is restricted at Penn State, according to Rebecca Miller, staff assistant in the school's Office of Unions and Student Activities. She says Bank of America has exclusive rights to solicit on campus. MBNA (which was acquired by BofA in 2005) donated millions to build the Bank of America Career Service Center.
"There is a table for the Bank of America in the HUB [Hetzel Union Building], but they don't take credit card applications. When they're here, it's for employment recruitment," Miller says.
Here's what some students at Penn State have to say about the new credit card law and managing credit cards:
"When I turned 18, I had all kinds of credit card offers, and I racked up a bit of debt. Now it's all paid off, though. People say, 'Oh, I'm an adult now. I can vote.' But when it comes to financial aspects, most parents are still taking care of them. So I think until students are more settled, [the credit card law is] a good idea. The typical college student is ready to graduate and get a job anyways by the time they're 21. And I understand the argument, too, though -- 'I want freedom.' But once you create debt, you never will have freedom."
-- Sara Larios, 28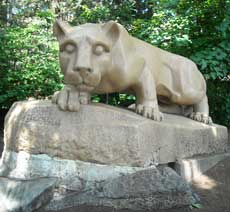 The Lion Shrine, a stone sculpture of Penn State's mascot
Photo: Lexi Belculfine
"Eventually, I'll get another credit card, once I'm convinced that I can manage my money, but I'm going to wait until I'm at least 21 anyways. I would have benefited from it."
-- Kim Moyer, 20
"My parents won't let me get a credit card. My sister has one and she's 20 now. She hit the max last year and is in debt now."
-- Christy Glidden, 18
More about credit cards and students
See related: Sample credit card contract for parents and their young adult children, Law alters cozy relationship between colleges, credit card issuers, Study: Undergraduates relying heavily on credit cards, A comprehensive guide to the Credit CARD Act of 2009, Obama signs new credit card reforms into law, Interactive timeline: How the credit card bill became law, when its provisions take effect, Will the new credit card law hurt more consumers than it helps?, Annual fees return in credit card mail offers, How to cope until the new credit card rules take effect, What the new credit card rules mean for you, New credit card rules don't cover business, corporate credit cards, Federal banking regulators finalize sweeping rule changes for credit cards
Three most recent Student credit cards, young credit stories: