Summary
Simple steps, such as closing a Web browser when one is finished using an online account, can reduce the risk of fraud and identity theft, the survey by Experian's ProtectMyID found
The editorial content below is based solely on the objective assessment of our writers and is not driven by advertising dollars. However, we may receive compensation when you click on links to products from our partners. Learn more about our advertising policy.
The content on this page is accurate as of the posting date; however, some of the offers mentioned may have expired. Please see the bank's website for the most current version of card offers; and please review our list of best credit cards, or use our CardMatch™ tool to find cards matched to your needs.
Many people aren't doing the basics to reduce their risk of fraud and identity theft online, a survey by Experian's ProtectMyID found.
The survey did find that we've acquired some good online security habits. For instance, 91 percent take some steps to secure physical and digital records, such as shredding documents and using passwords and antivirus software. More than 3 in 4 check bank statements monthly.
And then there are the fails. More than 50 percent do not check to see if a website is secure, and 15 percent keep a written record of passwords and PINs in their purse or wallet or on a mobile device or computer. For the record, those are all bad things to do. In addition, 50 percent do not have all of their Web-enabled devices password-protected. Why? Survey respondents said it's a hassle to enter a password (30 percent) or they do not feel it is necessary (25 percent).
The findings were released during October, which is National Cyber Security Awareness Month, and suggest consumers can do more to protect themselves online. "While this month is a good reminder to consumers to be vigilant about their personal information, they need to protect themselves year-round," said Michael Bruemmer, vice president of consumer proetection at Experian. ection.
The online survey was conducted by Edelman Berland on behalf of Experian from Sept 14-18, 2015, among 1,002 adults ages 18 and older residing in the United States.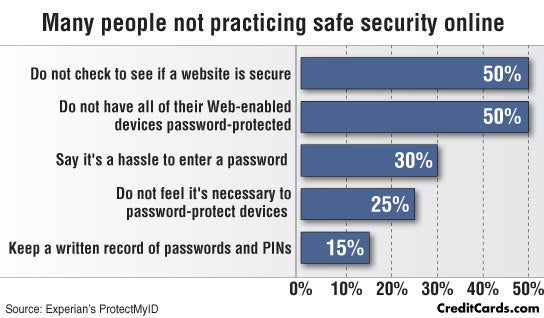 See related:
ID theft disconnect: We fear it but still engage in risky behavior
,
More infographics
To use the graphic on your site, use the following code:
 <center><a href="http://www.creditcards.com/credit-card-news/online-security-basics-fail-survey-1701.php"><img alt="CreditCards.com infographic: Cybersecurity is a major concern" border="0″ src="http://www.creditcards.com/credit-card-news/credit-card-news/images/cybersecurity-concerns2.jpg" /></a> </center>