Notre Dame students' opinions vary on new credit card law
The question: Does it promote responsibility or just treat college students like kids?
School info

School: Notre Dame (ND)
State: Indiana
City: South Bend
Colors:


Enrollment: About 12,000
Website: http://www.nd.edu
What other students are saying

The University of Notre Dame du Lac is a private Catholic university which was established in 1842 and remained an all-male school until 1972. Its library system is one of the 100 largest in the United States.
If students at Notre Dame are interested in applying for a credit card, they have to do it on their own and not through a credit card vendor on campus. Credit card companies are not allowed to recruit new customers at Notre Dame, university spokesman Dennis Brown said.
Brown said credit card vendors are subject to the university's general policy concerning noncampus organizations, which prohibits noncampus organizations from soliciting customers on campus.
At football games, though, there are a couple of credit card booths that are not targeted toward students, Brown says.
The booths sell affinity cards, which are credit cards that are co-sponsored by a bank and an organization -- in this case, Notre Dame. The Notre Dame affinity cards, Brown said, are meant to be purchased by alumni, and the university receives a portion of the revenue from the card sales.
"Those are primarily directed toward alumni," Brown said. "Students could apply if they wanted to, but that is not the purpose or intent."
The university also has its own credit union, the Notre Dame Federal Credit Union, located in the lower level of the LaFortune Student Center.
Here's what some students at Notre Dame have to say about the new credit card law and managing credit cards:
"As soon as they turn 21, what's going to change? Are they instantly going to know how to spend money? There are a lot of people out there that are under 21 that are a lot smarter and know what to do with their money a lot better than even people in their late 30s."
-- Amanda Ionovsky, 19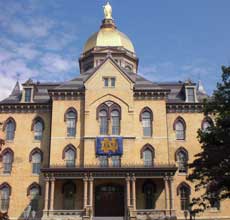 The University of Notre Dame's administrative offices are in the Main Building, which is famous for its gold dome.
Photo: Josh Barone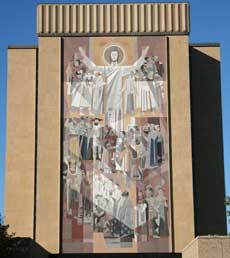 A mural known as "Touchdown Jesus" on the Hesburgh Library
"Just knowing how many problems have been caused by people spending money irresponsibly, I'm more willing to accept more regulation from the government about things like that."
-- Ben Pfeifer, 18
Big changes on campus: College students meet credit card reform
See related: Sample credit card contract for parents and their young adult children, Law alters cozy relationship between colleges, credit card issuers, Study: Undergraduates relying heavily on credit cards, A comprehensive guide to the Credit CARD Act of 2009, Obama signs new credit card reforms into law, Interactive timeline: How the credit card bill became law, when its provisions take effect, Will the new credit card law hurt more consumers than it helps?, Annual fees return in credit card mail offers, How to cope until the new credit card rules take effect, What the new credit card rules mean for you, New credit card rules don't cover business, corporate credit cards, Federal banking regulators finalize sweeping rule changes for credit cards
Three most recent Student credit cards, young credit stories: