Summary
New subprime accounts, driven by millennials, power growth
The editorial content below is based solely on the objective assessment of our writers and is not driven by advertising dollars. However, we may receive compensation when you click on links to products from our partners. Learn more about our advertising policy.
The content on this page is accurate as of the posting date; however, some of the offers mentioned may have expired. Please see the bank's website for the most current version of card offers; and please review our list of best credit cards, or use our CardMatch™ tool to find cards matched to your needs.
The wave of growth in credit card accounts continued in the first quarter of 2015, up 14 percent over the previous year period. The total of 314 million accounts is the largest since late 2008, when the recession led issuers to slow the credit fire hose to a trickle.
There was growth in all categories (subprime, prime and super-prime), the American Bankers Association's September 2015 Credit Card Market Monitor found, but that was fueled by a 28 percent increase in new subprime accounts. For the first time in three years, the total number of subprime accounts reached 60 million.
As the economy improves, banks are opening the door "for millennials with no credit history as well as those who have had difficulty managing credit in the past," said James Chessen, ABA's chief economist.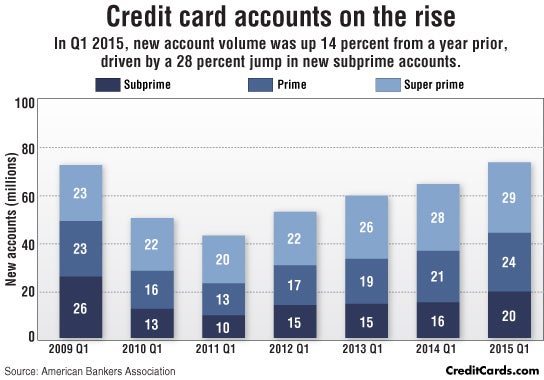 See related:How a new credit card affects your credit score, Credit card us and availability statistics, More infographics
To use the graphic on your site, use the following code:
 <center><a href="https://www.creditcards.com/credit-card-news/new-accounts-growth-aba-infographic.php"><img alt="CreditCards.com infographic: Credit card accounts on the rise" border="0″ src="https://www.creditcards.com/credit-card-news/images/number-of-new-accounts-090915.jpg" /></a> </center>