Summary
Respondents to an online survey say that of their worries after college, they are most afraid of not finding a job
The editorial content below is based solely on the objective assessment of our writers and is not driven by advertising dollars. However, we may receive compensation when you click on links to products from our partners. Learn more about our advertising policy.
The content on this page is accurate as of the posting date; however, some of the offers mentioned may have expired. Please see the bank's website for the most current version of card offers; and please review our list of best credit cards, or use our CardMatch™ tool to find cards matched to your needs.
In an April 2012 survey, U.S. adults revealed their biggest concerns about life after college. The survey, fielded by Harris Interactive on behalf of CouponCabin.com, finds an amazing 57 percent of those who took out student loans still have a balance. Of those carrying a student loan balance, one in three said it was $20,000 or more. When asked what they worry about, the top answer wasn't surprising: finding a job.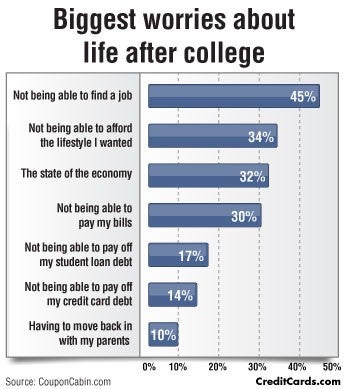 To use this CreditCards.com graphic on your site, use the following code:
 <center><a href="https://www.creditcards.com/credit-card-news/infographic-worries-after-college-job-1701.php"><img alt="CreditCards.com infographic: College graduates afraid of not finding a job" border="0″ src="https://www.creditcards.com/credit-card-news/images/infographic-worries-after-college.jpg" height="389″ width="344″ /></a> </center>