Summary
All age groups are increasingly shedding credit cards, according to June 2013 data from FICO. Yet no age group is ditching them faster than young people
The editorial content below is based solely on the objective assessment of our writers and is not driven by advertising dollars. However, we may receive compensation when you click on links to products from our partners. Learn more about our advertising policy.
The content on this page is accurate as of the posting date; however, some of the offers mentioned may have expired. Please see the bank's website for the most current version of card offers; and please review our list of best credit cards, or use our CardMatch™ tool to find cards matched to your needs.
June 2013 data from FICO
. Yet no age group is ditching them faster than young people.
Between October 2005 and October 2012, FICO tracked an increasing number of consumers who no longer had a credit card. Yet the percent of cardless 18-to-29-year-olds (16 percent) towers above that of any other age group. In fact, that 16 percent represents a 77 percent jump from 2005. The 30-to-39 crowd also saw a sizable (50 percent) jump between 2005 and 2012.
FICO attributes the trend partially to the CARD Act of 2009, which makes it much more difficult for consumers under 21 to get credit cards. Another factor at play, according to FICO, could be the recession, which made consumers as a whole — and young people in particular — wary of borrowing money.
The chart below shows (by age group) the percent of consumers without any credit cards between October 2005 and October 2012.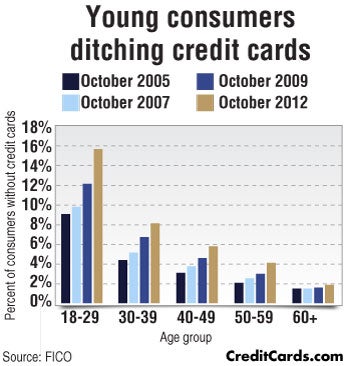 See related:
Infographic: Millennials swap credit cards for student loans
,
More infographics
To use the graphic on your site, use the following code:
 <center><a href="https://www.creditcards.com/credit-card-news/infographic-young-people-go-without-credit_cards-1701.php"><img alt="CreditCards.com infographic: Young consumers ditching credit cards" border="0″ src="https://www.creditcards.com/credit-card-news/images/infographic-young-ditch-cc-lg.jpg" /></a> </center>
All age groups are increasingly shedding credit cards, according to