Summary
While young people's post-recession lifestyles include fewer homes, fewer cars and less credit card debt, their student loan debt has skyrocketed
The editorial content below is based solely on the objective assessment of our writers and is not driven by advertising dollars. However, we may receive compensation when you click on links to products from our partners. Learn more about our advertising policy.
The content on this page is accurate as of the posting date; however, some of the offers mentioned may have expired. Please see the bank's website for the most current version of card offers; and please review our list of best credit cards, or use our CardMatch™ tool to find cards matched to your needs.
While young people's post-recession lifestyles include fewer homes, fewer cars and less credit card debt, their student loan debt has skyrocketed, according to a
February 2013 report
from the Pew Research Center.
Between 2001 and 2010, the median debt of households headed by someone under 35 fell by 14 percent, while median debt of older households rose by 63 percent. Homeownership plays a big role in that, the study concluded. Younger households are less likely to own a home (and have a mortgage) than they were in 2001, while older household are more likely to own a home and the debt that comes with it.
While young people have been shedding some kinds of debt, they've been packing on student loans. Older households saw a modest uptick in student debt between 2001 and 2010, but younger households saw a rapid increase.
The chart below shows the share of households with various types of debt. For young households, all debt categories took a dramatic downward turn after the 2007 recession, except for student loan debt, which shot up.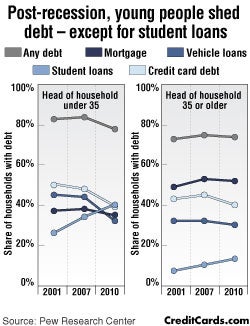 See related:
Money lessons can save young adults from financial crisis
To use the graphic on your site, use the following code:
 <center><a href="https://www.creditcards.com/credit-card-news/infographic-young-adults-ditch-home-ownership-rack-up-student-loans-1701.php"><img alt="Post-recession young people shed debt — except for student loans" border="0″ src="https://www.creditcards.com/credit-card-news/credit-card-news/images/infographic-debt-youth2.jpg" /></a> </center>