Summary
Australia's experience with credit card surcharges may hold some clues for what's in store for U.S. merchants and customers
The editorial content below is based solely on the objective assessment of our writers and is not driven by advertising dollars. However, we may receive compensation when you click on links to products from our partners. Learn more about our advertising policy.
The content on this page is accurate as of the posting date; however, some of the offers mentioned may have expired. Please see the bank's website for the most current version of card offers; and please review our list of best credit cards, or use our CardMatch™ tool to find cards matched to your needs.
A court settlement gives retailers the right to recover "swipe fees" by charging extra for credit card use starting Jan. 27. But will they? And what will be the consequences if surcharges take off?
Australia's experience with surcharges may hold some clues. Australia began allowing surcharges in 2003, and an analysis published by its central bank found that, although surcharges were slow to take off in the retail sector, they eventually caught on. The chart below shows how, by the end of 2010, more than 40 percent of large merchants were charging customers fees (typically about 1.9 percent) for card use.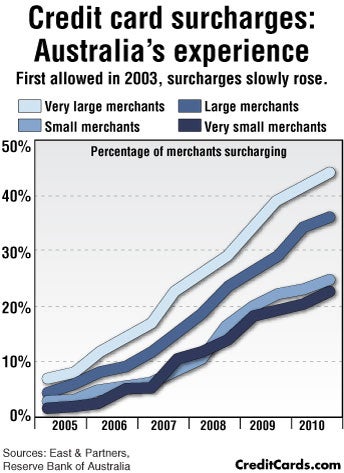 See related:
Credit card surcharges? No way, poll says
To use the graphic on your site, use the following code:
 <center><a href="http://www.creditcards.com/credit-card-news/infographic-will-credit_card-surcharges-take-hold-in-the-us-1701.php"><img alt="CreditCards.com infographic: Credit card surcharges" border="0″ src="http://www.creditcards.com/credit-card-news/images/infographic-surcharges-Lg.jpg" /></a> </center>