Summary
Recent grads are caving under the weight of their student loans, a TransUnion study has found
The editorial content below is based solely on the objective assessment of our writers and is not driven by advertising dollars. However, we may receive compensation when you click on links to products from our partners. Learn more about our advertising policy.
The content on this page is accurate as of the posting date; however, some of the offers mentioned may have expired. Please see the bank's website for the most current version of card offers; and please review our list of best credit cards, or use our CardMatch™ tool to find cards matched to your needs.
TransUnion study
reveals that more than half of student loan accounts are in deferment, which provides a temporary reprieve from repayments. That brings the balance of deferred loans up to $338 billion — 43.5 percent of all student loan balances.
The average debt load per individual is growing as well. From 2007 to 2012, average student loan balances increased by 30 percent, from $18,379 to $23,829, the study found.
With many recent graduates unemployed, frustrated with the job market or heading back to school to embark on a different career, mounting student loan balances are no surprise, said Ezra Becker, vice president of research and consulting at TransUnion's financial services business unit.
"However, the rate of growth we observed was truly eye-opening," he said.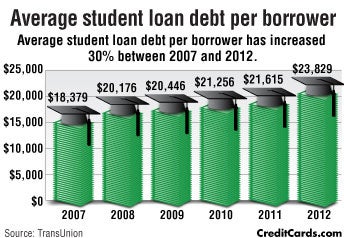 See related:
Student loan debt: the next time bomb?
To use the graphic on your site, use the following code:
 <center><a href="https://www.creditcards.com/credit-card-news/infographic-student-loan-debt-1701.php"><img alt="CreditCards.com infographic: Student loan debt grows in sluggish job market" border="0″ src="https://www.creditcards.com/credit-card-news/images/infographic-student-loan-debt.jpg" /></a> </center>
Recent grads are caving under the weight of their student loans. A January 2013