Summary
Fifteen million Americans used small-dollar credit products in 2011, from outfits such as pawnshops, payday lenders and auto title outfits. Who borrows, why and what do they spend their loans on?
The editorial content below is based solely on the objective assessment of our writers and is not driven by advertising dollars. However, we may receive compensation when you click on links to products from our partners. Learn more about our advertising policy.
The content on this page is accurate as of the posting date; however, some of the offers mentioned may have expired. Please see the bank's website for the most current version of card offers; and please review our list of best credit cards, or use our CardMatch™ tool to find cards matched to your needs.
The Center for Financial Services Innovation (CFSI) conducted a study that found about 15 million consumers used at least one small-dollar credit product in the past year. A small-dollar credit product is typically a small loan that must be repaid in a short amount of time and is often used by consumers between paychecks. These products can include payday loans, pawnshop loans, direct deposit advance loans, auto title loans and nonbank installment loans.
The study included a survey of more than 1,100 consumers who had used these kinds of loans: Key factors as to who makes up this demographic are illustrated below.
According to the survey, 66 percent of small-dollar credit consumers had no savings, 59 percent had a high school education or less, and only 27 percent had a credit card. If this is a demographic that struggles with getting and establishing credit, then short-term, small-dollar loans would be appealing to them as most do not require a credit check.
The survey also asked respondents to indicate why they used a small loan, and paying utility bills was No. 1 on the list at 36 percent. Rounding out the top three were using the loan for living expenses (34 percent) and rent (18 percent). The top reasons they needed the cash in the first place? Their living expenses were consistently more than their income, they had a bill or payment due before they received their paycheck or they experienced unexpected events such as medical emergencies.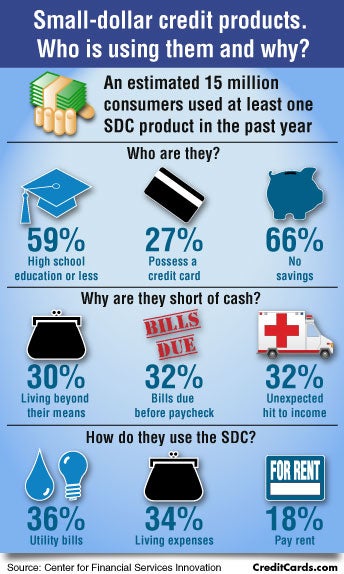 To use this CreditCards.com graphic on your site, use the following code:
 <center><a href="https://www.creditcards.com/credit-card-news/infographic-small-dollar-credit-products-1701.php"><img alt="Infographic: Small-dollar credit users" border="0″ src="https://www.creditcards.com/credit-card-news/images/infographic-sdc-consumers-5.jpg" height="574″ width="344″ /></a> </center>