Summary
When it comes to credit card rewards most desired by consumers, grocery rewards eat everyone else's lunch, according to research from American Express
The editorial content below is based solely on the objective assessment of our writers and is not driven by advertising dollars. However, we may receive compensation when you click on links to products from our partners. Learn more about our advertising policy.
The content on this page is accurate as of the posting date; however, some of the offers mentioned may have expired. Please see the bank's website for the most current version of card offers; and please review our list of best credit cards, or use our CardMatch™ tool to find cards matched to your needs.
When it comes to the most-joined rewards and loyalty programs, grocery rewards programs eat everyone else's lunch.
American Express' November Spending & Saving Tracker survey asked 1,500 consumers whether they belonged to rewards programs. Most (86 percent) belonged to some type of loyalty scheme. More than half (57 percent) belonged to a debit or credit cards reward program.
The most popular rewards scheme categories were grocery (66 percent), pharmacy (46 percent) and hotel (32 percent).
Still, consumers who join loyalty programs don't always use them. While 44 percent of those surveyed said they used their grocery rewards program most often, just 7 percent and 3 percent said the same about their pharmacy and hotel programs, respectively.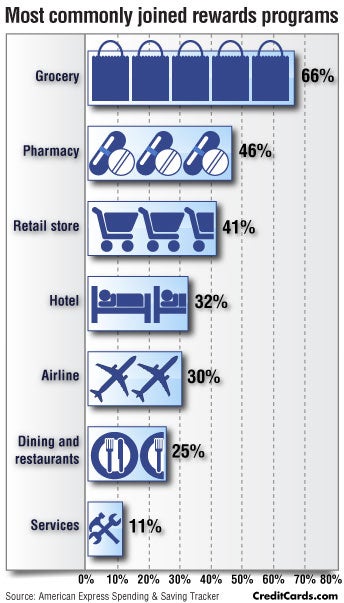 See related:
How to keep track of all those rewards points
To use the graphic on your site, use the following code:
 <center><a href="http://www.creditcards.com/credit-card-news/infographic-rewards-program-loyalty-1701.php"><img alt="CreditCards.com infographic: Most commonly joined rewards programs" border="0″ src="http://www.creditcards.com/credit-card-news/images/infographic-brand-loyalty-2.jpg" /></a> </center>