Summary
American families are ditching their credit cards — and their debt — since the recession, according to a Fed survey.
The editorial content below is based solely on the objective assessment of our writers and is not driven by advertising dollars. However, we may receive compensation when you click on links to products from our partners. Learn more about our advertising policy.
The content on this page is accurate as of the posting date; however, some of the offers mentioned may have expired. Please see the bank's website for the most current version of card offers; and please review our list of best credit cards, or use our CardMatch™ tool to find cards matched to your needs.
The amount of credit card debt held by Americans sharply fell from 2007 — the beginning of the recession — to 2010, according to a closely watched Federal Reserve report,  Survey of Consumer Finances. The data from the survey of nearly 6,500 interviews of U.S. consumers reveals that in 2010, the median amount of debt among households carrying a credit card balance fell to $2,600 from $3,000 in 2007 — or 16.1 percent. Additionally, the number of cards per household decreased. In 2007, 35 percent of families held four or more credit cards; this fell to 32.7 percent in 2010.
The survey is released every three years. The 2010 data was released in June 2012.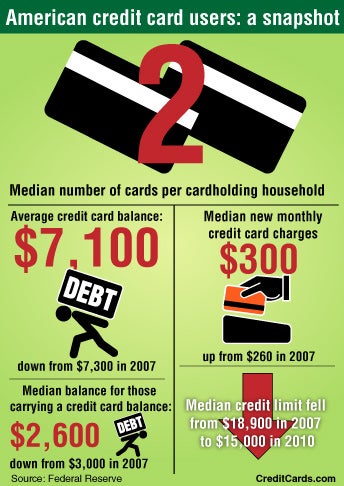 To use this CreditCards.com graphic on your site, use the following code:
 <center><a href=http://www.creditcards.com/credit-card-news/infographic-recession-shrinks-card-debt-1701.php><img alt="CreditCards.com Infographic: Americans shed credit cards and debt post-recession" border="0″ src="http://www.creditcards.com/credit-card-news/images/infographic-median-cc-debt-lg.jpg" height="486″ width="344″ /></a> </center>