Summary
A quarterly survey conducted by Citi revealed that consumers who bank using their mobile device is growing, even among older age groups.
The editorial content below is based solely on the objective assessment of our writers and is not driven by advertising dollars. However, we may receive compensation when you click on links to products from our partners. Learn more about our advertising policy.
The content on this page is accurate as of the posting date; however, some of the offers mentioned may have expired. Please see the bank's website for the most current version of card offers; and please review our list of best credit cards, or use our CardMatch™ tool to find cards matched to your needs.
A quarterly Citi survey reveals that mobile banking is a growing trend — and not just among younger Americans.
According to a survey of 2,001 adults released in August 2012, 49 percent of consumers own a smartphone or tablet. Of those mobile device owners, 64 percent use their device to manage their finances.
While younger consumers between the ages of 18 and 34 are still more likely to use mobile banking (71 percent, according to the survey), older Americans are embracing the technology as well. The survey found that the majority of 35- to 49-year-olds (67 percent) and 50- to 64-year-olds (53 percent) who own a mobile device use it for banking; almost half of 65-year-olds and older do the same.
"Nearly a third of Americans are already using a smartphone or tablet to manage their money, and today older generations are increasingly accounting for the growth in mobile adoption," Citi Managing Director and Head of Consumer Internet and Mobile Banking North America Tracey Weber said in a press release.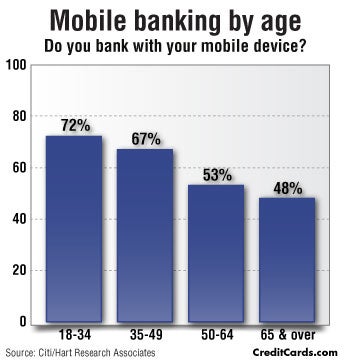 To use this CreditCards.com graphic on your site, use the following code:
 <center><a href="https://www.creditcards.com/credit-card-news/infographic-mobile-banking-rising-all-ages-1701.php"><img alt="Infographic: Mobile banking on the rise" border="0″ src="https://www.creditcards.com/credit-card-news/images/infographic-citi-modile-pay3.jpg" height="360″ width="344″ /></a> </center>