Summary
For the first time, mobile banking has outstripped more old-fashioned methods of account maintenance, such as telephone and mail.
The editorial content below is based solely on the objective assessment of our writers and is not driven by advertising dollars. However, we may receive compensation when you click on links to products from our partners. Learn more about our advertising policy.
The content on this page is accurate as of the posting date; however, some of the offers mentioned may have expired. Please see the bank's website for the most current version of card offers; and please review our list of best credit cards, or use our CardMatch™ tool to find cards matched to your needs.
annual survey
of preferred banking methods.
The survey of 1,000 U.S. adults, released October 2013, found that mobile banking is now the preferred banking method of 8 percent of customers — up from 6 percent in 2012. That 30 percent increase helped it edge out telephone calls (down to 7 percent from 9 percent in 2012) and snail mail (down to 7 percent from 8 percent in 2012) as a means of managing bank accounts.
All these methods are small pieces of the pie, however, compared with Internet banking (accessing bank accounts from a PC or laptop) and visiting a bank branch. The latter is still the preferred method for those who need assistance with more complex transactions, such as opening a new account or discussing loan options, according to the survey.
The chart below shows preferred banking methods for U.S. adults. The poll, conducted in July 2013 by Ipsos, had a margin of error of plus or minus 3.1 percentage points.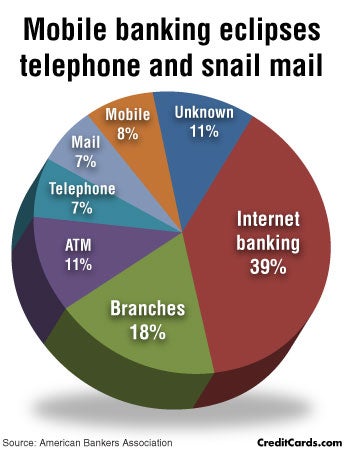 See related:
Consumers prefer mobile banking to mobile payments
,
More infographics
To use the graphic on your site, use the following code:
 <center><a href="https://www.creditcards.com/credit-card-news/infographic-mobile-banking-coming-up-from-behind-1701.php"><img alt="CreditCards.com infographic: Mobile banking eclipses telephone and snail mail" border="0″ src="https://www.creditcards.com/credit-card-news/images/infographic-mobile-eclipses-lg.jpg" /></a> </center>
In October 2012, more consumers did their banking the old-fashioned way (by telephone and mail) than the high-tech way (by smartphone or tablet). Now, for the first time, mobile banking has inched ahead of phone and mail in popularity, according to the American Bankers Association's