Summary
New data shows huge decreases in default rates, and a couple of big U.S. city's residents deserve a pat on the back
The editorial content below is based solely on the objective assessment of our writers and is not driven by advertising dollars. However, we may receive compensation when you click on links to products from our partners. Learn more about our advertising policy.
The content on this page is accurate as of the posting date; however, some of the offers mentioned may have expired. Please see the bank's website for the most current version of card offers; and please review our list of best credit cards, or use our CardMatch™ tool to find cards matched to your needs.
Consumers are getting better about paying back debt, according to data released in August, and Miami residents top the charts for the most drastic decrease in default rates.
The graphic below represents default rates of a composite of different types of consumer loans, including auto loans, bank cards, first mortgages and second mortgages, as compiled by S&P Dow Jones Indices and Experian, for five U.S. cities.
From July 2011 to July 2012, Miami saw more than a 50 percent decrease in its residents' default rates. In July of 2011, Miami's default rate was at 5.37 percent — from there, it plummeted to 2.44 percent by June 2012 and continued to decrease to 2.39 percent by July 2012. According to the release, this is a post-recession low for the city's consumers.
New York residents came in second for default rate decreases — from a rate of 1.8 percent in July 2011, to 1.49 percent one year later.
Of the various types of loans in the composite, bank cards had the most dramatic decline in defaults across the U.S., starting out with the highest rate at 5.64 percent in July 2011 and dropping to 3.83 percent in July of 2012.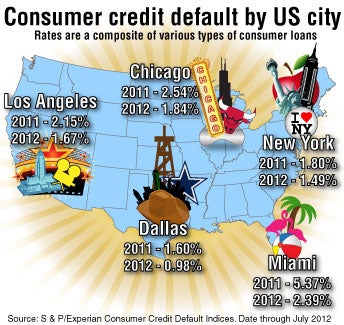 To use this CreditCards.com graphic on your site, use the following code:
 <center><a href="https://www.creditcards.com/credit-card-news/infographic-lower-default-rates-top-US-cities1701.php"><img alt="CreditCards.com Infographic: Consumers getting better about paying back debt" border="0″ src="https://www.creditcards.com/credit-card-news/images/bank-cards-largest-decrease.jpg" height="325″ width="344″ /></a> </center>