Summary
Most parents say they talk about money regularly with their kids. Their children, however, don't think these conversations are enough.
The editorial content below is based solely on the objective assessment of our writers and is not driven by advertising dollars. However, we may receive compensation when you click on links to products from our partners. Learn more about our advertising policy.
The content on this page is accurate as of the posting date; however, some of the offers mentioned may have expired. Please see the bank's website for the most current version of card offers; and please review our list of best credit cards, or use our CardMatch™ tool to find cards matched to your needs.
survey
from investment firm T. Rowe Price.
While more than half of parents said they included their kids in discussions about shopping and family vacation planning, just 39 percent said they involve them in discussions about family savings goals. And the kids know they're being left out: 64 percent said they knew parents were avoiding talking about family finances with them.
The chart below shows other money topics kids wish their parents would be more open about. They are particularly interested in credit cards.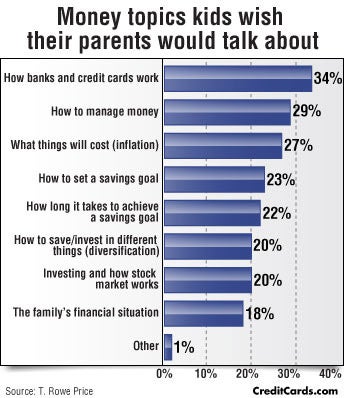 See related:
Does your kid need a financial coach?
,
More infographics
To use the graphic on your site, use the following code:
 <center><a href="https://www.creditcards.com/credit-card-news/infographic-kids-wish-parents-talked-more-about-money-1701.php"><img alt="CreditCards.com infographic: Money topics kids want to know about" border="0″ src="https://www.creditcards.com/credit-card-news/images/infographic-money-topics-kids.jpg" /></a> </center>
Nearly three-quarters of parents are having regular conversations about money with their children. Their children, however, don't think these conversations are enough, according to a March 2013