Summary
As debit card use has risen, so has debit card fraud — key targets are atms, grocery stores and gasoline pumps.
The editorial content below is based solely on the objective assessment of our writers and is not driven by advertising dollars. However, we may receive compensation when you click on links to products from our partners. Learn more about our advertising policy.
The content on this page is accurate as of the posting date; however, some of the offers mentioned may have expired. Please see the bank's website for the most current version of card offers; and please review our list of best credit cards, or use our CardMatch™ tool to find cards matched to your needs.
More people are using their debit cards to pay for purchases, according to a new analysis from FICO — and fraudsters aren't far behind.
The number of debit card fraud cases in which sensitive account details, including debit card numbers and PINs, are "skimmed" from ATMs and retail swipe machines has jumped substantially in recent years, say FICO researchers.
To skim customers' information, fraudsters attach small electronic devices to payment machines, such as ATMs, and use the devices to covertly scan and save the sensitive information stored on a card's magnetic stripe. Fraudsters can then take that information and use it to pay for goods online, where a physical card isn't needed. Or they can use it to create a new counterfeit debit card.
This kind of card-not-present fraud is now one of the leading sources of debit card fraud, says Doug Clare, vice president of product management at FICO. Counterfeit and stolen debit cards are also common, he says, but aren't nearly as popular with fraudsters.
"As with credit, card-not-present is the most common category of fraud impacting [debit] accounts," says Clare. It's also the costliest. More money has been lost to card-not-present scams than to any other type of debit card fraud, according to FICO research.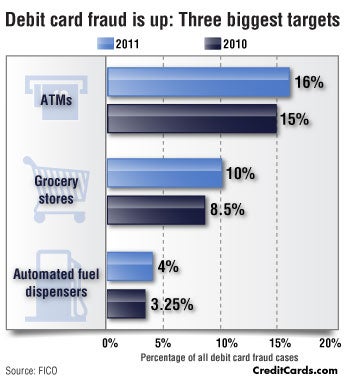 To use this CreditCards.com graphic on your site, use the following code:
 <center><a href="https://www.creditcards.com/credit-card-news/infographic-lower-default-rates-top-US-cities1701.php"><img alt="CreditCards.com Infographic: Consumers getting better about paying back debt" border="0″ src="https://www.creditcards.com/credit-card-news/images/bank-cards-largest-decrease.jpg" height="325″ width="344″ /></a> </center>