Summary
While consumers are paying many of their loans on time, late credit card payments saw an uptick in the third quarter of 2013, according to the American Bankers Association
The editorial content below is based solely on the objective assessment of our writers and is not driven by advertising dollars. However, we may receive compensation when you click on links to products from our partners. Learn more about our advertising policy.
The content on this page is accurate as of the posting date; however, some of the offers mentioned may have expired. Please see the bank's website for the most current version of card offers; and please review our list of best credit cards, or use our CardMatch™ tool to find cards matched to your needs.
While consumers are paying many of their loans on time, late credit card payments saw an uptick in the third quarter of 2013, according to the American Bankers Association.
The ABA defines delinquencies as payments 30 days or more late. Delinquencies on bank-issued credit cards rose from 2.42 percent of all payments in the second quarter of 2013 to 2.55 percent. Meanwhile, the composite ratio, which tracks eight types of closed-end (fixed payment) loans, dropped to a record low: 1.63 percent of all payments were delinquent.
Why the slight increase in the bank card delinquencies? They had fallen to a 19-year low in early 2013, a continuation of a steady slide that started in 2009. So there may have been nowhere to go but up. As it stands, bank card delinquencies remain well below the highs reached during the recession.
"While bank card delinquencies saw a slight uptick, rates are still more than 30 percent below their 15-year average," said James Chessen, ABA's chief economist, in a news release.  "It will be difficult for bank card delinquencies to improve further when they are already at such low levels."
The chart below shows the past five years of delinquency data for bank cards and the composite ratio, which includes auto loans, home equity loans, personal loans, and loans to finance boats, mobile homes and property improvement.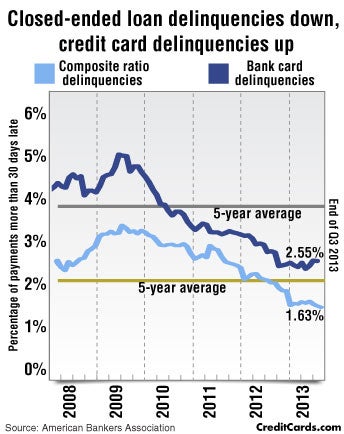 See related:
Card delinquencies hit 22-year low
,
More infographics
To use the graphic on your site, use the following code:
 <center><a href="http://www.creditcards.com/credit-card-news/infographic-credit-card-delinquencies-inch-up-1701.php"><img alt="CreditCards.com infographic: Credit card delinquencies inch up" border="0″ src="http://www.creditcards.com/credit-card-news/images/infographic-delinquencies2.jpg" /></a> </center>