Summary
Delinquent payments on credit cards hit an 18-year low in the third quarter of 2012, according to numbers from the American Bankers Association
The editorial content below is based solely on the objective assessment of our writers and is not driven by advertising dollars. However, we may receive compensation when you click on links to products from our partners. Learn more about our advertising policy.
The content on this page is accurate as of the posting date; however, some of the offers mentioned may have expired. Please see the bank's website for the most current version of card offers; and please review our list of best credit cards, or use our CardMatch™ tool to find cards matched to your needs.
Delinquent payments on credit cards hit an 18-year low in the third quarter of 2012, according to numbers from the American Bankers Association (ABA). Credit card payments more than 30 days late fell to 2.75 percent of all payments, a low not seen since 1994.
In the chart below, similar downward slides are evident in auto loan delinquencies and delinquencies overall. It's the result of recession-weary consumers trying to shed debt, said James Chessen, ABA's chief economist, in a news release.
"Consumers are paying close attention to their finances as they continue to pay down debt in an uncertain economy," Chessen said.  "The conservative approach consumers have taken to credit over the last several years has allowed them to better manage their debt and better position themselves for the future."
 Delinquencies on home equity loans are the only ones on a rise. As with other types of loans, delinquecies on home equity loans spiked when the recession hit in 2008. Unlike other types of loans, though, the delinquency rates on home equity loans have not fallen back down.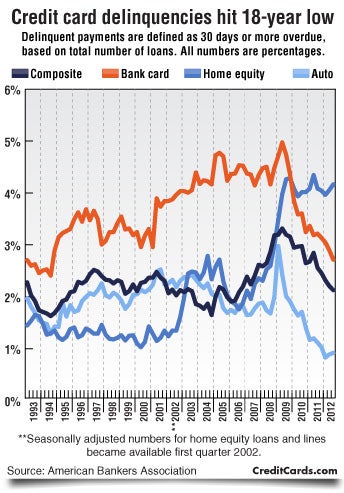 See related:
Life cycle of a delinquent credit card account
To use the graphic on your site, use the following code:
 <center><a href="http://www.creditcards.com/credit-card-news/infographic-credit-card-defaults-decline-1701.php"><img alt="CreditCards.com infographic: Credit card delinquencies hit 18-year low" border="0″ src="http://www.creditcards.com/credit-card-news/images/infographic-hist-data-sheet-3q-2012.jpg" /></a> </center>